Teaching preschool may seem easy, with so many fun toys and games in the curriculum. However, teaching preschool is much more than simply having fun. Children absorb so much information during their first few years of life. Plus, there is so much that they need to accomplish in order to enter kindergarten and succeed in school.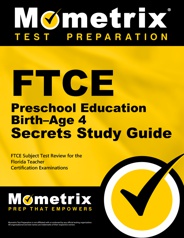 Prepare with our FTCE Preschool Education Birth-Age 4 Study Guide and Practice Questions. Print or eBook. Guaranteed to raise your score. Get started today!
Florida preschool teachers must be aware of various types of development among children. In order to prove that they are knowledgeable enough to teach at this grade level, they must pass the FTCE Preschool Education (Birth–Age 4) exam.
The FTCE Preschool Education (Birth–Age 4) test consists of 120 questions. You will have two hours and 30 minutes to answer these multiple-choice questions. You must score at least 200 to pass. When you take this test, do note that there is a delay in receiving scores. Score reports will be received within five weeks.
There are nine competencies covered on the exam. The largest portion of the test focuses on curriculum and developmentally appropriate practice.
Other competencies include typical and atypical early childhood development, early childhood standards and practices, engagement of culturally diverse families, developmentally appropriate learning environments, developmentally appropriate guidance, knowledge of children with varying exceptionalities and special considerations, knowledge of developmentally appropriate assessment and evaluation, and health and nutrition.

FTCE Preschool Education Birth-Age 4 Flashcards. Proven FTCE test flashcards raise your score on the FTCE Preschool Education Birth-Age 4 test. Guaranteed.
The exam will cover numerous topics based on these competencies. You will be assessed on your knowledge of developmental domains, milestones, atypical development, major influences on child development, factors that contribute to disabilities and learning delays, state and federal standards and programs, ethical conduct, contemporary trends, family and community engagement, barriers that may limit access to services, curriculum models, appropriate practices, active learning, development of critical thinking, play-based environments, appropriate schedules and routines and teacher-child interactions.
You will also need to be familiar with concepts such as social-emotional development, building nurturing relationships, early intervention services, types of disabilities and disorders, children with special considerations, development of educational plans, appropriate screening and assessment, safety of young children, disease prevention, indicators of child abuse and neglect, wellness, and healthy living and nutrition.
As you can see, preschool education is no easy task. See if you have what it takes to create a solid education foundation for young children by taking the FTCE Preschool Education (Birth–Age 4) practice test. This test is a great way to jump start your studying. You'll be able to assess what you already know and see where you can improve. You'll study more effectively and feel confident on test day.