Teaching is more than knowing the material. Teaching also involves learning strategies to help students, understanding professional conduct strategies, and understanding how culture impacts learning. To prove they've mastered these and many other skills, educators in Florida take the Florida Teacher Certification Examination (FTCE) Professional Education Test. What's on the exam? What are the best study materials you can buy to help you prepare for the test? This guide will help.
How many questions are on the FTCE Professional Education Test?
This computer-based test contains 120 questions.
How long is the test time?
The test time is 2 hours and 30 minutes, though candidates may spend more time at the test center.
What is the exam's passing score?
Candidates must achieve a minimum scaled score of 200 to pass the exam.
When will I receive my test results?
At the end of the exam, candidates will receive an unofficial pass/fail result. Official score reports will be available about four weeks after the exam date.
What is the fee to take the FTCE Professional Education Test?
Candidates pay a $150 fee. Any candidate who must retake the exam will pay a $150 retake fee.
Where can I take the test?
Florida uses a private testing company to deliver the exam to candidates. The company has locations throughout Florida and across the country. Consult the Florida Teacher Certification Examination website for specifics.
What categories are on the FTCE Physical Education Test?
There are eight "competencies" or knowledge areas on the exam. The test areas are as follows:
Knowledge of instructional design and planning. Topics include appropriate evaluation tools for measuring performance level and needs, student intervention strategies, and learning theory application.
Knowledge of appropriate student-centered learning environments. This section includes learning techniques in different environments, such as face-to-face and virtual, and communication techniques to relay what's expected of students.
Knowledge of instructional delivery and facilitation through a comprehensive understanding of subject matter. Topics include engaging and challenging students through motivational techniques, and how the subject matter relates to life experiences.
Knowledge of various types of assessment strategies for determining impact on student learning. Topics include using assessments to consider learning styles and level of knowledge, and how assessment tools can be used to monitor student achievement and
Knowledge of relevant continuous professional improvement. Topics include professional development goals, using research to improve student instruction and achievement, and learning outcome evaluation.
Knowledge of the Principles of Professional Conduct of the Education Profession in Florida. Topics include how to apply disciplinary action, procedures for reporting abuse and neglect, and student record maintenance and appropriate use.
Knowledge of research-based practices appropriate for teaching English Language Learners (ELLs). Topics include how culture relates to learning experiences and standards-based curriculum materials and how to evaluate and differentiate them for ELL students.
Knowledge of effective literacy strategies that can be applied across the curriculum to impact student learning. Topics include strategies to develop text reading skills, reading comprehension, critical thinking skills development, and understanding literacy levels so students have the appropriate resources.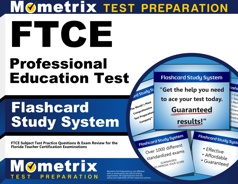 FTCE Professional Education Flashcards. Proven FTCE Professional Education test flashcards raise your score on the FTCE Professional Education test. Guaranteed.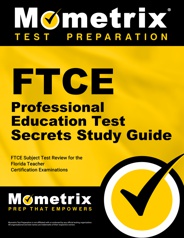 Prepare with our FTCE Professional Education Study Guide and Practice Questions. Print or eBook. Guaranteed to raise your score. Get started today!