The Conference's National Board Examination (NBE) provides an evaluation of a candidate's knowledge and competency needed to practice as a licensed funeral director or embalmer. The exam reflects the current practice in funeral services and assesses a candidate's skills, knowledge, and abilities to perform their professional duties according to a national standard. Thirty-eight states and the District of Columbia use the NBE as a part of their licensure procedures.
The NBE consists of two exams – the NBE Arts and the NBE Sciences. Both exams must be passed to obtain the NBE certificate. The NBE is one portion of the licensing process. Follow the specifications of your state's licensing board to complete the necessary steps for licensure.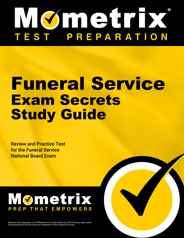 Prepare with our Funeral Service Study Guide and Practice Questions. Print or eBook. Guaranteed to raise your score. Get started today!
Test design
The NBE is administered in two sections – The NBE Arts and NBE Sciences. Each section contains 170 multiple-choice and 20 non-scored pretest computer-delivered questions. You have 170 minutes per section to answer all of the prompts. Breaks are allowed during the exam, but the timer does not stop. You can schedule to take the sections on different days or at one appointment.
The NBE Arts section is divided into six categories:
Funeral arranging and directing – 51 questions
Funeral service marketing and merchandising – 21 questions
Funeral service counseling – 22 questions
Legal and regulatory compliance – 36 questions
Cemetery and crematory operations – 20 questions
Pretest Questions (non-scored) – 20
The NBE Science section is divided into five categories:
Embalming – 58 questions
Restorative art – 34 questions
Preparation for disposition – 31 questions
Funeral service sciences – 27 questions
Pretest Questions (non-scored) – 20
Requirements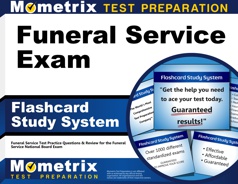 Funeral Service Flashcards. Proven Funeral Service test flashcards raise your score on the Funeral Service test. Guaranteed.
The Conference has established eligibility requirements for the NBE. These include reviewing the NBE Candidate Handbook, acknowledge and agree to The Conference's policies, view an exam security video, graduate from an accredited American Board of Funeral Service Education (ABFSE) program, and submit an official, sealed transcript for verification of graduation.
There may be additional requirements determined by your licensing board. Review the requirements of your locality before applying for the NBE.
Application
Applications are accepted online or by mail. Online applications are paid with a credit/debit card, and paper applications are paid with a money order or cashier's check. Personal checks and cash are not accepted. You have the option to pay for each portion of the NBE individually, or all at once. Each exam is $285.00 ($570.00 for both tests of the NBE), and payment must accompany your application.
Included in the application fee is the transmission of your exam results to one state licensing board. You can add additional states to send your results to at the time of your application for $25.00 each, or $50.00 after you have submitted your application.
Once your application is processed and approved, The Conference sends an Authorization to Test (ATT) to Pearson VUE, the testing provider for the NBE. Your confirmation is emailed to you and includes information on how to schedule your exam. You have one year from your application date to schedule and take the NBE.
Submission of your application does not guarantee permission to sit for the exam. If you do not meet the requirements, your application is denied, and you forfeit any fees paid.
Scheduling your test appointment
Once you receive your ATT, contact the Pearson VUE test center near you to schedule your exam. You can schedule your exam online or by phone. The test is offered year-round at centers across the nation, and test center hours vary. Once your testing date is set, Pearson VUE emails you a registration confirmation notice. The notice includes the date, time, and location of your exam, as well as directions to the facility and reporting time (usually 15 to 30 minutes before your scheduled exam time).
The day of the exam
Follow the directions provided to you for your reporting time. Do not arrive late as you may not be admitted. All belongings are to be left at home or secured in the provided locker. Anything you need to complete the exam(s) is provided, you cannot bring reference materials or other tools, including pens and pencils, to your testing station.
At your testing station, you can take a short tutorial on the test-delivery method. The tutorial is not timed. After you complete the tutorial and accept the non-disclosure agreement, your exam begins. You can move between questions on the test and mark questions to return to. You have about one minute per question, so try to answer all of the questions first. When you have reached the end of the exam, you can review your responses or submit the test for scoring.
Scores
The NBE is a pass or fail examination, and you can pass one section of the NBE and not the other. To pass the NBE, you need to pass both sections. If you do not, you can retake the test you failed after a 90-day waiting period. You can retake the exam three times in one year.
Your results are immediately provided to you when you finish your exam by an on-screen display and an unofficial printout. Your report will state "pass" or "fail," and it will not include a numerical score. The scaled passing score is 75. If you pass, you know that you achieved at least a 75. If you did not pass, you will receive a performance feedback chart to inform your preparation for your next attempt.
Your official score report is sent directly to the state licensing board(s) you indicated on your application. Within two to three weeks a wall certificate is mailed to candidates who successfully pass both sections of the NBE.
Preparation
The NBE is a content-driven examination covering a wide range of concepts, theories, and practices you need to know to be proficient in your career. Don't waste time second-guessing your study aids. Use Mometrix Test Preparation's study guide and flashcards to prepare for your licensing examination. Each tool is researched and vetted to present to you the best study aids available.