In terms of human development, few periods are more important than the time between birth and kindergarten age. These few years encompass our first experiences with and impressions of the world around us, laying the foundation for the rest of our growth. As such, it is up to parents and trained professionals to carve out the best possible pathways to success for today's children.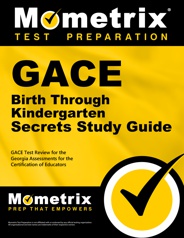 Prepare with our GACE Birth Through Kindergarten Study Guide and Practice Questions. Print or eBook. Guaranteed to raise your score. Get started today!
If you're on this page, you're likely an aspiring birth to kindergarten educator, on the verge of completing your certification training. Congratulations! You've undoubtedly invested tremendous amounts of time and effort into drawing this close toward your goals. If you're in the state of Georgia, however, you have one last task to complete before you can get started with your professional career. This task is to earn a passing score on the GACE Birth Through Kindergarten exam.
The GACE (Georgia Assessments for the Certification of Educators) exam as a whole is administered to Georgian teachers to assess how prepared they are to enter the professional world. You can't launch your career without first earning a passing score on this test.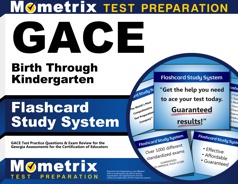 GACE Birth Through Kindergarten Flashcards. Proven GACE Birth Through Kindergarten test flashcards raise your score on the GACE Birth Through Kindergarten test. Guaranteed.
The GACE Birth Through Kindergarten test is composed of two individual subtests, known officially as Tests I and II. Each of these subtests is composed of 80 multiple choice ("selected-response") questions, which you will have two hours per exam to complete. Each subtest also deals with their own range of subjects.
Test I deals with Child Development and Learning (55 percent) and Professionalism and Building Relationships (45 percent). Test II focuses on Meaningful Curriculum and Learning (48 percent) and Teaching and Learning (52 percent).
To help you perform on this test to the best of your ability, the Mometrix Test Preparation team has composed a GACE Birth Through Kindergarten practice test. This study tool is 100 percent free for you to use. It is designed to give you a comprehensive preview of what to expect come test day. We have conducted thorough research to ensure this practice test is as accurate to the actual exam as possible.
You can use this practice test either standalone or alongside our corresponding GACE Birth Through Kindergarten study guide. Good luck!