When it comes to understanding today's students, certain aspects require more study and understanding than others. One of those aspects is the media they consume on a daily basis. Media in and of itself has become extremely prominent as of recent decades, and is constantly changing in terms of format and availability. By paying close attention to how modern youth interacts with the media they're exposed to, educators can also understand how they view and interact with the world around them.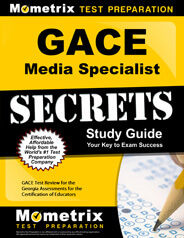 Prepare with our GACE Media Specialist Study Guide and Practice Questions. Print or eBook. Guaranteed to raise your score. Get started today!
Becoming a media specialist is no easy feat, however. On top of devoting themselves to years of training in the field, specialists across the country typically will have to pass some sort of final test.
In Georgia, this test is the GACE (Georgia Assessments for the Certification of Educators) exam. Media specialists specifically will have to earn a passing score on the GACE Media Specialist exam before they can launch their professional careers.
Because this particular field is so specialized, the GACE Media Specialist test itself is fairly complex to match. You will find it divides into two sections: Tests I and II.
The test's overall formatting will typically consist of 80 multiple choice ("selected-response") questions per section, as well as individual time allotments of two hours. As a whole, the test will take four hours to complete.
Each of the exam's subtests come with their own unique subject areas.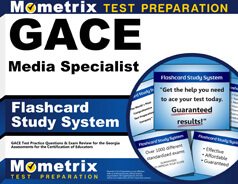 GACE Media Specialist Flashcards. Proven GACE Media Specialist test flashcards raise your score on the GACE Media Specialist test. Guaranteed.
Test I deals with:
Collection Development (40 percent)
Learning and Teaching (60 percent)
Test II will focus on:
Information Access and Delivery (30 percent)
Professional Development, Leadership, and Advocacy (30 percent)
Program Administration (40 percent)
If you're on this page, you're likely in search of study tools to help you prepare for this exam. The Mometrix Test Preparation team is here to help! We've put together a GACE Media Specialist practice test to help you study more thoroughly. Designed with accuracy in mind, this study tool is perfect for familiarizing yourself with the exam's content. By using our practice test, you can more easily gain an idea of where your weaknesses and strengths lie with the material and adjust your studying accordingly.
This practice test is 100 percent free and pairs best with our companion GACE Media Specialist study guide. Good luck!