When it comes to classroom management, paraprofessionals can be (and often are) just as important as homeroom teachers. It is the job of a paraprofessional to help the teacher they assist stay organized and keep their curriculum on track, even when things get hectic.
Quite a few teachers don't have paraprofessionals to help them with the ins and outs of educating their students, but those that do often find the help invaluable.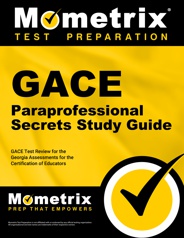 Prepare with our GACE Paraprofessional Study Guide and Practice Questions. Print or eBook. Guaranteed to raise your score. Get started today!
If you're studying to become a paraprofessional, you undoubtedly have an important task ahead of you.
The Georgia state government understands this as well, which is why they require all incoming paraprofessionals throughout the state to take and pass the GACE Paraprofessional exam.
This exam is designed to assess whether or not you've gained all the professional knowledge and skills you'll need to thrive in your career.
The GACE Paraprofessional test is unique from other GACE tests in that it is made up of only one section.
You will be expected to complete a total of 90 multiple choice ("selected-response") questions within two and a half hours.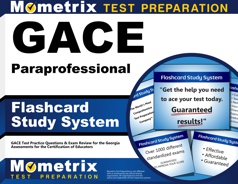 GACE Paraprofessional Flashcards. Proven GACE Paraprofessional test flashcards raise your score on the GACE Paraprofessional test. Guaranteed.
The test's questions will cover such important subjects as:
Writing (33 percent)
Mathematics (33 percent)
Reading (34 percent)
Crafting a thorough study plan will help you to perform at your absolute best come exam day. If you're looking for just the right study tools, we encourage you to take advantage of our free GACE Paraprofessional practice test.
We have taken your needs into account while composing this study tool, and have shaped it so it mirrors the actual exam as closely as possible. Through our practice test, you can get to know how the real test will work as well as aim your studying appropriately based on your weaknesses and strengths with the material.
We hope our practice test will fit well into your study plan. For best results, we recommend pairing it with our companion GACE Paraprofessional study guide, also featured on this page. Good luck!