No matter who we are or where we live, politics affects each and every one of our lives in one way or another. Because of this, comprehension of the world's political systems and how they work is crucial—as well as the work of a political science teacher to introduce students to this important subject.
However, as an aspiring political science educator, you understand just how multifaceted your field is. Before you can actually start teaching, you must first prove you have ample knowledge of your chosen subject, as well as the skills necessary to impart what you know to your students.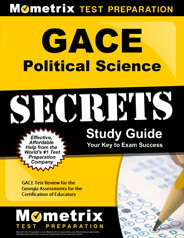 Prepare with our GACE Political Science Study Guide and Practice Questions. Print or eBook. Guaranteed to raise your score. Get started today!
In Georgia, all teachers are required to prove their readiness to teach by taking and passing the GACE (Georgia Assessments for the Certification of Educators) exam.
Political science educators specifically will have to take the GACE Political Science exam.
With a total of 120 questions and four hours of testing time, the GACE Political Science test is fairly complex. It divides into two sections.
These sections are Tests I and II. Test I features 60 multiple choice ("selected-response") questions, and a two hour time span.
Test II follows the same format. Where these two subtests differ, however, is through their subject matter.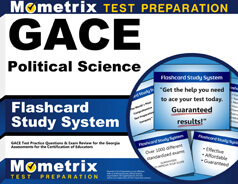 GACE Political Science Flashcards. Proven GACE test flashcards raise your score on the GACE Political Science test. Guaranteed.
Test I's questions deal with:
Citizenship and Politics (40 percent)
Local, State, and National Institutions (60 percent)
Test II focuses on:
Comparative Politics and International Relations (20 percent)
Civil Rights, Civil Liberties, and Criminal Justice (30 percent)
the United States Constitution (50 percent)
At Mometrix Test Preparation, we care about your success. We want to help you prepare as thoroughly as possible for this exam, which is why we're offering you our free GACE Political Science practice test. This study tool has been designed through comprehensive research.
We have analyzed the real GACE exam from top to bottom to bring you an accurate preview of its formatting and material. This practice test is ideal for familiarizing yourself with the exam and learning how to approach its contents.
For best results, we encourage you to use this practice test alongside our GACE Political Science study guide, also featured on this page. Study hard, and good luck!