Students in special education have different needs than the rest of the student population. That means they need teachers well prepared to help them achieve their educational goals. Educators in Georgia must pass the Georgia Assessment for the Certification of Educators (GACE) Special Education General Curriculum exam. The test assesses whether educators have the requisite knowledge in special education curriculum to teach from pre-school through high school. The difficult test requires lots of study. This guide provides insight into the exam and offers a study guide that can help prepare for the test.
 What is the format for the GACE Special Education General Curriculum exam?
The exam has two tests, Test I and Test II.
What is the exam testing time?
Candidates have two hours to complete Test I and another two hours to complete Test II.  Candidates may take each test separately. Those choosing to take both tests at the same time have four hours to complete the exam.
When adding in additional time for tutorials, candidates can expect to spend a total of 2.5 hours each for Test 1 and Test II, and five hours for the complete exam.
How many questions are on the exam?
Test I and Test II each contain 65 questions for a total of 130 questions on this computer-based test. Some of the questions will not be graded.
What content areas are on the GACE Special Education General Curriculum exam?
Test I has two sub-content areas:
Planning the Learning Environment and Social Interactions. This area assesses a candidate's abilities in lesson planning and curriculum development. This area also assesses knowledge of the learning environment and effective classroom management.
Instruction tests effective teaching techniques. That includes using technology in instruction and implementing strategies across settings and curricula based on student age and ability.
Test II has three sub-content areas:
Development and Characteristics of Learners. This area focuses on human development and behavior, including how disability impacts individuals and families, and influences that impact an individual's development and achievement.
Assessment tests the candidate's ability to recognize effective and appropriate assessments, interpret assessment data, and how to use assessment results.
Foundations and Professional Responsibilities. This section tests the candidate's understanding of the law and legislation in the area of special education. Candidates will also be assessed on collaboration and communication, including understand the roles and responsibilities of the special education teacher and other professionals.
What identification will I need to bring to the test center?
It's best to bring two forms of identification. You'll need a primary form of ID. Acceptable forms include a passport, driver's license, and military ID. The test center may ask for a supplemental piece of identification, such as a student ID card.
Am I allowed to bring personal items into the test center?
No. Candidates are not allowed to bring any personal items, such as backpacks, phones, and recording devices into the testing room. Please consult the test center rules for a complete list of prohibited items.
What is the exam passing score?
Georgia's tests are scored on a scale of 100 to 300. The passing score is 220 if taking the test at the induction level and 250 if taking the exam at the professional level.
When will I receive my exam score?
Candidates who elect to report their score will be able to access their unofficial score through their online test account.
What if I think I did poorly on the GACE Special Education General Curriculum exams? What can I do?
Georgia gives candidates, at the conclusion of their exam, the option to "report" or "cancel" their scores. Cancel scores will not be reported. Candidates who cancel their scores must wait at least 30 days before retaking the test. Candidates will not receive any refunds of test fees.
I worried about passing this test. What are the best study materials I can buy?
The study materials created by the team of professionals at Mometrix are the ones you need. Our study guide helps you understand question clues that can lead you to the right or wrong answer. We'll also provide a handy checklist that will help you prepare for the exam and tips on avoiding panic on test day. Our flashcards help you study in small bits of information so you're not overwhelmed. There are no better study materials to help you prepare for the GACE Special Education General Curriculum exam.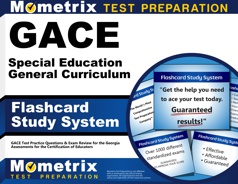 GACE Special Education General Curriculum Flashcards. Proven GACE test flashcards raise your score on the GACE Special Education General Curriculum test. Guaranteed.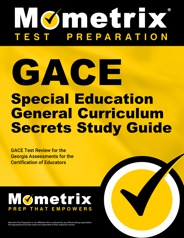 Prepare with our GACE Special Education General Curriculum Study Guide and Practice Questions. Print or eBook. Guaranteed to raise your score. Get started today!