A Certified Gastroenterology Registered Nurse has undergone the extra education and has completed the certification process that enables them to bear this title. This certification enables the RN to better care for the patient being treated for a gastroenterological disorder.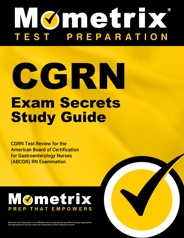 Prepare with our CGRN Study Guide and Practice Questions. Print or eBook. Guaranteed to raise your score. Get started today!
In order to become a Certified Gastroenterology Registered Nurse, the applicant must be a licensed Registered Nurse who has been working with gastroenterology patients for a minimum of 2 years on a full-time basis or 5 years on a part-time basis (total of 4,000 hours). Signed verification from at last least two peers is also required.
The Certified Gastroenterology RN exam is offered at multiple testing sites across the United States. The exam consists of 175 questions with 25 of those questions serving as sample questions for future exams.
Exam results are sent via mail approximately 5 weeks after the test date. The exam fee ranges from $300 to $385 depending on membership in the Society of Gastroenterology Nurses and Associates (SGNA).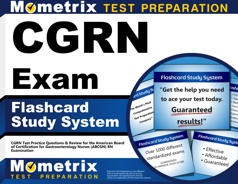 CGRN Flashcards. Proven CGRN test flashcards raise your score on the CGRN test. Guaranteed.
Almost one-half of the Certified Gastroenterology Licensed Registered Nurse exam consists of questions regarding gastroenterological procedures. Approximately one-quarter of the exam pertains to patient care interventions. The remainder of the exam will test the applicant's knowledge of general patient care and professional standards in the field of gastroenterology nursing.
Certification is valid for 5 years. At the end of that time period, recertification can be attained by retesting. Another option is to maintain employment providing direct patient care for patients with gastroenterological disorders for a minimum of 2 years full-time or 5 years part-time, or 4,000 hours. A minimum of 80 continuing education hours should be completed in gastroenterology topics, with at least 50 of these hours from nursing conferences or lectures.