Insurance agents who wish to sell life and health insurance must first pass the Life and Health Test. The Life and Health qualification exam splits the two titular topics into separate sections.
Topics covered in the life insurance section of the exam are: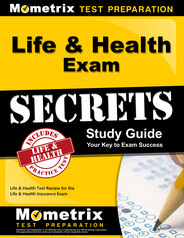 Prepare with our Life and Health Study Guide and Practice Questions. Print or eBook. Guaranteed to raise your score. Get started today!
Life insurance basics
Policy provisions
Life insurance policy options and riders
Life insurance tax considerations
Qualified life insurance and annuity plans
Annuity policy information
Annuity policy tax considerations and implications
The health insurance section includes questions on these topics:
Health insurance basics
Individual, group, and dental insurance policies and provisions
Disability income


Life and Health Flashcards. Proven Life and Health test flashcards raise your score on the Life and Health test. Guaranteed.

Medical plans
Special needs individual insurance
HMOs (Health Maintenance Organizations)
Tax considerations for health insurance
Candidates are given two and a half hours to complete the 150 questions on the Life and Health Test. The questions on the exam come in three formats, all multiple-choice: direct question, incomplete sentence, and "all of the following except…"
Life and Health Insurance License Exam Cram
The Life and Health Test is computerized, and candidates receive their results immediately upon finishing the test. Candidates must answer 70 percent of the questions correctly to pass the Life and Health Exam. The score report gives detailed information to the candidate about how he/she performed in each section of the test.
It is important that Life and Health Test candidates are familiar with general insurance regulations. Candidates taking the Life and Health Test should also be aware that life and health insurance rules and regulations vary from state to state, so they should make sure to study the relevant rules for the state in which they seek licensure.
Take the self assessment module quiz below (make notes of your scores and remember which revealed significant gaps in your learning):
Self-Assessment Module