The Home Inspector exam plays a big part in building safety in America. In the United States, as in all advanced nations, governments take very seriously the need to make sure that the safety and wellbeing of their citizens is a prime consideration in the construction of buildings.
There are multiple levels of safety checks built into the system in the US. First, there are stringent building codes which all new structures must be built in compliance with. Second, contractors must pass tests to prove they're competent before being licensed to operate. Third, during, and after construction, government inspectors check the quality of the work to make sure it is "up to code" and is safe for human habitation.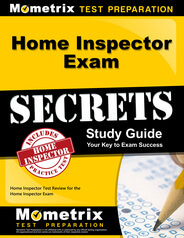 Prepare with our Home Inspector Study Guide and Practice Questions. Print or eBook. Guaranteed to raise your score. Get started today!
Home inspectors enter the picture when a homeowner decides to sell his house to another party. Generally speaking, a bank or mortgage company will require a full home inspection report before they'll approve a loan to buy the house.
Of course, if the inspection turns up any problems that are big enough for the lender to refuse to approve the loan, this will send negotiations back to square one. The seller will have to get the problem repaired in order to sell the house.
Home Inspector Exam Overview
It's important to note that home inspectors aren't only looking for major safety hazards; they're looking for any and all problems the buyer should be aware of.
Normally these will be safety problems or advanced wear and tear which will mean the likelihood that the buyer will incur major repair expenses in the first few years after the transaction. Common problems are roofing, heating, ventilation and air conditioning, termites, plumbing, electrical wiring, etc.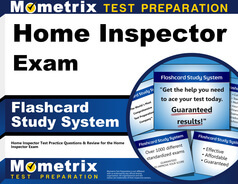 Home Inspector Flashcards. Proven Home Inspector test flashcards raise your score on the Home Inspector test. Guaranteed.
Home inspectors will inspect new houses from time to time, but the vast majority of their work involves older homes. Because they are the last line of defense a home buyer has before agreeing to purchase a house, professional inspectors must be highly competent.
The average home buyer isn't really qualified to make sure the home inspector they're considering is competent (nor are most banking or real estate professionals), so licensing exams have been created for this purpose.
By taking and passing an exam such as the Online Inspector Examination from the International Association of Certified Home Inspectors (NACHI), or the National Home Inspector Examination from the Examination Board of Professional Home Inspectors (EBPHI), a person lets the world know that he is a professional in the field of home inspection. Those who rely on him can rest assured that he knows what he's doing and will make sure they don't get stuck with a house with huge, unforeseen problems that will be dangerous or expensive.
Online Home Inspector Prep Course
If you want to be fully prepared, Mometrix offers an online Home Inspector Prep Course. The course is designed to provide you with any and every resource you might want while studying. The Home Inspector Course includes:
Review Lessons Covering Every Topic
400+ Home Inspector Practice Questions
More than 250 Digital Flashcards
Money-back Guarantee
Free Mobile Access
and More!
The Home Inspector Prep Course is designed to help any learner get everything they need to prepare for their Home Inspector exam. Click below to check it out!
National Home Inspector Examination Study Guide
Explore our free Home Inspector review provided by Mometrix. Check out our premium Home Inspector study guide to take your studying to the next level. If you benefit from these materials, just click the link below! To compliment our Home Inspector book, we also offer extensive Home Inspector flashcards for even more Home Inspector test prep help.
We hope you enjoy our products! Your purchase helps us make more great, free Home Inspector certification content for test-takers just like yourself.
Self-Assessment Modules