One of the major keys to fostering student success is learning how they think and perceive the world, and how these elements impact their behavior. Studying this very concept is the job of the standard learning behavior specialist. By taking on this career path, you also take on this wide scale task, as well as the responsibility of providing stronger guidance for classrooms across the state of Illinois and the nation. Your work will effectively give educators a stronger understanding of their students and how to guide their learning.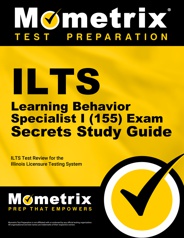 Prepare with our ILTS Learning Behavior Specialist I Study Guide and Practice Questions. Print or eBook. Guaranteed to raise your score. Get started today!
There's no doubt you have had to undergo some complex training in order to prepare for your future career.
Now what you've learned will be put to the test. The Illinois state government requires all aspiring learning behavior specialists to take the ILTS Learning Behavior Specialist I exam as a final step to earning their license.
By taking this exam, you will essentially be proving you've mastered all the necessary concepts for working in your chosen field and will be able to perform your job well.
The ILTS Learning Behavior Specialist I test is complex in its formatting, much like the other ILTS exams.
It spans three hours and 45 minutes in terms of its time limit, within which you'll have to complete 125 questions.
All questions on this test are multiple choice. They also cover a wide array of subjects, including: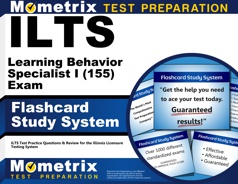 ILTS Learning Behavior Specialist I Flashcards. Proven ILTS test flashcards raise your score on the ILTS Learning Behavior Specialist I test. Guaranteed.
Professional Conduct, Leadership, and Growth
Foundations and Characteristics
Working in a Collaborative Learning Community
Assessing Students and Developing Individualized Programs
Managing the Learning Environment and Promoting Students' Social Interaction and Communication Skills
Planning and Delivering Instruction
The Mometrix Test Preparation team wants you to be as prepared as possible for this important exam. To help, we've put together our ILTS Learning Behavior Specialist I practice test.
Designed with accuracy in mind, this study tool is meant to help familiarize you with the actual ILTS exam's contents, so you'll have a better idea of what to expect come test day. We recommend this practice test to anyone looking to compose a thorough study plan. Good luck!