For many, it may seem counterintuitive to have to undergo so much formal training to teach music, especially to younger grade levels. However, as an aspiring music teacher with probable musical experience in your own right, you know very well just how much effort goes into leading a music classroom. There are so many technical aspects you must convey to your students, especially as their age range ascends. Even with very young students, you must be able to figure out how to introduce them to the basics of how music works, and keep their lessons engaging.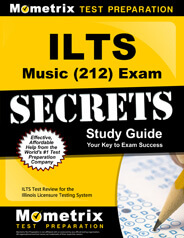 Prepare with our ILTS Music Study Guide and Practice Questions. Print or eBook. Guaranteed to raise your score. Get started today!
The ILTS Music exam doesn't test you on your technical knowledge of music alone, however.
The ILTS (Illinois Licensure Testing System) is designed to evaluate your readiness to teach, and grades not just your comprehension of your chosen field, but your grasp of teaching the subject and interacting properly with your students.
No prospective teacher in the state of Illinois can begin their careers without first taking this important exam. In fact, it is the final goalpost to earning your certification.
The ILTS Music test is no less complex than any of its sibling subject exams. You will be given three hours and 45 minutes to answer 125 questions, all of which are selected-response (multiple choice) in format.
Each question caters to a specific subject that is relevant to your training. These subjects are: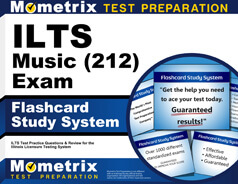 ILTS Music Flashcards. Proven ILTS Music test flashcards raise your score on the ILTS Music test. Guaranteed.
Music Education
Listening Skills
Music History and Culture
Creating and Performing Music
Music Theory
On this page, you'll find the Mometrix ILTS Music practice test. This study tool is outfitted to provide you with all you'll need in terms of getting to know the ins and outs of the actual exam. We have rendered it as accurate as possible, thanks largely to countless hours of observation and research.
As such, this study tool is ideal for learning how the exam works, as well as figuring out which areas of it may need more of your attention as you study. We hope you will choose to incorporate it into your study plan. Good luck!