While technology has undoubtedly introduced a whole host of conveniences to our lives, it is not without its drawbacks. The convenience and accessibility of electronic devices has ultimately forced currently generations to grow more and more sedentary, affecting our health for the worst. This fact makes physical education, and physical education teachers, more important to our society than perhaps ever before.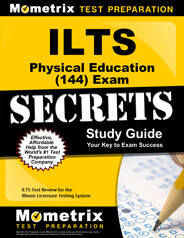 Prepare with our ILTS Physical Education Study Guide and Practice Questions. Print or eBook. Guaranteed to raise your score. Get started today!
If you're training to become a physical education teacher, you know the importance of teaching youth about fitness and how vital it is to get up and move on a regular basis.
You've also likely realized, however, that your field requires far more than teaching basic exercise.
In the state of Illinois, all aspiring physical education instructors are required to earn a passing score on the ILTS Physical Education exam before they can proceed with their professional careers.
As a whole, the ILTS (also known as the Illinois Licensure Testing System) is designed to test the knowledge of prospective teachers throughout the state, and whether they are prepared enough to teach in their chosen field.
You will be provided a time limit of three hours and 45 minutes to complete the ILTS Physical Education test. It is 125 questions long, and each and every question featured is written in multiple choice format.
Additionally, each questions falls under one of four categories, including: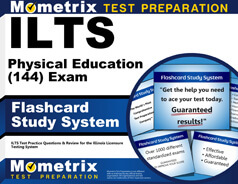 ILTS Physical Education Flashcards. Proven ILTS Physical Education test flashcards raise your score on the ILTS Physical Education test. Guaranteed.
the Physical Education Program
Health-Related Physical Fitness
the Role of Physical Education in Promoting Development
Movement and Skill Acquisition
The Mometrix Test Preparation team is here to help you every step of the way as you prepare for this exam. That's why we'd like to offer you our ILTS Physical Education practice test.
This 100 percent free study tool is designed to help you learn how the actual ILTS exam will work, as well as figure out which areas of the exam you may need to pay more attention to throughout your studies.
For the most thorough experience, we recommend using this practice test alongside our ILTS Physical Education study guide. If you decide to use our practice test standalone, however, it will still prove effective. Good luck!