Few would argue against the fact that reading is one of the most important skills to possess in the modern world. We gain most of our information about the world around us simply by reading from various sources throughout our daily lives. On the same token, those who lack the ability to read are at a severe disadvantage—one that makes it much harder for them to keep up with our rapidly advancing society. However, the unfortunate fact is there is still a sizable population of individuals who cannot read. As a prospective reading teacher, it will be your job to try and narrow this gap, so each and every member of society can have a more equalized level of opportunities.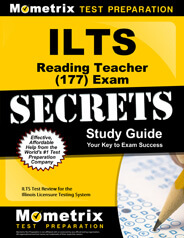 Prepare with our ILTS Reading Teacher Study Guide and Practice Questions. Print or eBook. Guaranteed to raise your score. Get started today!
Before you can become a professional reading teacher, however, you have to undergo quite a bit of training, then prove you understand the various concepts you've learned. In the state of Illinois, this involves earning a passing score on the ILTS Reading Teacher exam.
The ILTS exam, also known as the Illinois Licensure Testing System, is designed to assess how much you've learned about teaching in your specific field and whether you're ready to officially start your career.
The ILTS Reading Teacher test is designed to take about three hours and 45 minutes to complete.
You will be presented with 125 questions, all of them multiple choice. Each of these questions also adheres to one of four subjects relevant to your field.
These subjects include: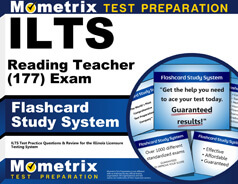 ILTS Reading Teacher Flashcards. Proven ILTS Reading Teacher test flashcards raise your score on the ILTS Reading Teacher test. Guaranteed.
Professional Roles and Responsibilities
Language, Reading, and Literacy
Assessment
Reading Instruction
The Mometrix Test Preparation team wants to see you succeed. To help you prepare for this exam to the best of your ability, we've constructed our ILTS Reading Teacher practice test, which you'll find on this page.
This practice test is meant to help you familiarize yourself with the exam by providing you with an accurate glimpse of its contents. We hope you will choose to incorporate our practice test into your study plan. Good luck!