It may come as a surprise to most that teaching art requires such lengthy training. Art is considered to be one of the most intuitive disciplines there is, making the idea of needing any sort of formal training for it a confusing concept to some. However, as a trained visual artist and aspiring visual arts teacher, you know this thought process couldn't be further from the truth! There are all sorts of aspects you need to learn before you can be a competent visual artist, no less teach what you've learned to students.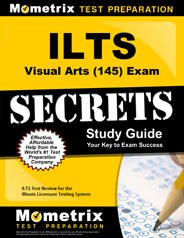 Prepare with our ILTS Visual Arts Study Guide and Practice Questions. Print or eBook. Guaranteed to raise your score. Get started today!
The state of Illinois also understands the complexity of your field.
This is why they require all aspiring visual arts teachers, just like you, to earn a passing score on the ILTS Visual Arts exam.
Like other ILTS (Illinois Licensure Testing Systems) subject exams of its kind, the Visual Arts test is designed to ensure you've gained all the skills you'll need to properly manage a classroom. You can't teach professionally without a passing score on this exam.
Much like the other ILTS subject tests, the ILTS Visual Arts test spans for three hours and 45 minutes, and is 125 questions long.
All of the questions featured on the exam are multiple choice. Furthermore, you can expect each question to adhere to one of four subjects: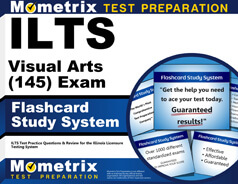 ILTS Visual Arts Flashcards. Proven ILTS Visual Arts test flashcards raise your score on the ILTS Visual Arts test. Guaranteed.
the Role of the Visual Arts
Elements, Principles, and Expressive Features of the Visual Arts
Analyzing and Evaluating Works of Visual Art
Creating and Producing Works of Visual Art
The Mometrix Test Preparation team is here to help you as you prepare for this important exam. We have put together an ILTS Visual Arts practice test, which you can find on this page.
This practice test is ideal for assessing where you stand with the material, as you can use it to gauge where your weaknesses and strengths lie and which areas you should put more focus into as you study. In a more general sense, it can also be used just to learn more about how the test works.
Regardless of how you use it, we hope our practice test will form an effective part of your study plan. Good luck!