The American Association of Critical-Care Nurses (AACN) credentials registered nurses in the informatics specialty. This credential is designed for established registered nurses specializing in managing patient information, including managing and gathering patient data to evaluate and provide better patient care. Successful completion of the Informatics Nurse Exam entitles the registered nurse to use the credential RN-BC.
Eligibility
Eligibility to sit for the Informatics examination includes:
Have a current, active RN license in a state or territory of the United States or have the equivalent license in another country
Have a bachelor's or higher degree in nursing
Have 2 years of full-time experience as a registered nurse
Have completed 30 hours of continuing education in informatics nursing within the last 3 years
Have practiced at least 2,000 hours of nursing informatics within the last 3 years.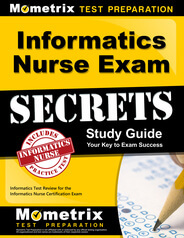 Prepare with our Informatics Nurse Study Guide and Practice Questions. Print or eBook. Guaranteed to raise your score. Get started today!
Application steps
To apply to sit for the Informatics Nursing examination, determine your eligibility. If you meet the above requirements, submit your application online at the AACN website, or you can apply using the paper application found on the website. Online registrations are processed 24 hours a day, seven days a week, and paper applications can take as long as eight weeks to process. After you register, you will submit your education and experience verification documents.
Scheduling of your exam
AACN reviews all testing applications. If you are determined eligible, AACN notifies you by email. Five to ten days after you receive the confirmation email, an approval-to-test postcard and email are sent to you by the testing service, Prometric. You have 90 days from receipt to schedule your exam.
Successful applicants receive an email confirmation from AACN notifying them of their eligibility to test. Within five to ten days after receipt of the confirmation email, you will receive an approval-to-test postcard and email from the testing service. Follow the directions in the approval to schedule your exam. You have 90 days from receipt of the authorization to schedule your certification with the testing center.
Test appointment availability varies by the testing center. Most appointments are available Monday through Friday; some testing centers offer Saturday appointments.
Cost
The application fee for American Nurses Association members is $270.00, $340.00 for American Nursing Informatics Association (ANIA) members, and $395.00 for non-members. The application fee includes a $140.00 non-refundable administrative fee, and additional fees may apply for rescheduling, name changing, and other services. The application fee is payable by credit or debit card. Personal checks and money orders are accepted with paper applications.
Test design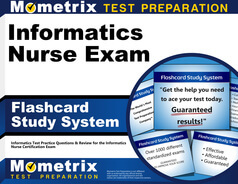 Informatics Nurse Flashcards. Proven Informatics Nurse test flashcards raise your score on the Informatics Nurse test. Guaranteed.
The Informatics Nurse exam contains 125 multiple-choice, computer-delivered questions, with 25 questions non-scored, pre-test items. The 25 non-scored questions are indistinguishable from the scored questions, so be sure to answer each question.
There are three domains of practice evaluated in the Informatics Nursing examination, and each domain is divided into subject areas that test your knowledge and skills. The domains and subject areas of the Informatics Nurse exam include:
Foundations of practice – 36%

Professional Practice
Methodologies and theories
Rules, regulations, and requirements
Inter-professional collaboration

System design life cycle – 35%

Planning and analysis
Designing and building
Implementing and testing
Monitoring, maintaining, supporting, and evaluating

Data management and health care technology – 29%

Data standards
Data management
Data analysis, application, and transformation
Hardware, software, and peripherals
You have three hours to complete the examination.
Test Day
Pre-test activities required include identity verification, security measures, and securing personal items in the provided soft locker. To ensure you are not disruptive to other candidates, arrive at least 15 minutes before your exam appointment. Once you have completed the check-in procedures, you are escorted to your testing station.
At your station, the proctor provides a dry erase board and marker to use during your exam. Once you have settled in at your station, your exam begins. You have about one minute to spend per question, and you can move back and forth throughout the exam. Pay attention to the time so you have time to review your work before submitting your exam for scoring.
When you have finished, follow the procedures for exiting out of your exam program. Collect your dry erase board and pen, and report to the test proctor for your unofficial score report.
Results
On the day of your exam, you receive an unofficial score report indicating your results. Test results are pass or fail. Your exam is marked on a scaled score from 0 to 500, and the minimum passing score required for certification is 350. If you passed, your score report only indicates your testing attempt as "pass." If you did not pass, your score report indicates your testing attempt as "fail," and your report will include diagnostic information for each area of the test.
Four weeks after you pass the certification examination, AACN mails your certificate. However, you are able to use the credential as soon as you receive your official score report.
Preparing for the exam
Obtaining the RN-BC credential in Informatics Nursing can increase your professional opportunities for advancement. Once you decide to take the exam, develop your study plan for success. Part of your study plan should include a review of the tested domains. The Mometrix Informatics Nursing Study Guide presents an in-depth review of the critical topics you will find on the exam, and the Flashcards present information with a readable font that makes absorption of terms and concepts easier while being portable for even the busiest individual.
Avoid the common mistakes of studying and use a proven method to ensure your success. Mometrix Test Preparation is your partner in your career progression.