The United States Green Building Council developed the Leadership in Energy and Environmental Design (LEED) program to encourage builders to use sustainable and green practices. There are four levels at which a building can become LEED certified: certified, silver, gold, and platinum. Each of these designations signifies a specific level of energy conservation and resource management.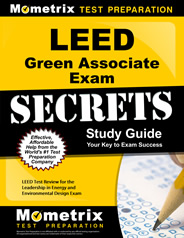 Prepare with our LEED Study Guide and Practice Questions. Print or eBook. Guaranteed to raise your score. Get started today!
The LEED system has been around since 1991, and at present there are LEED certified buildings in all 50 and in 24 countries around the world. The LEED system divides a building into six categories:
sustainable sites
water conservation
energy and atmosphere
materials and resources
indoor environmental quality
green design innovations
In order to become LEED certified, each of the six categories must be considered with respect to the environmental effects. Once a building is LEED certified, however, the rewards are numerous. LEED certification increases the value of the home, and often attracts potential buyers. Having a LEED certification can generate tax breaks, and can expedite the permitting process.
Right now, there are six sets of construction parameters for LEED structures: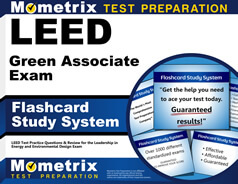 LEED Flashcards. Proven LEED test flashcards raise your score on the LEED test. Guaranteed.
LEED-NC (new commercial construction and major renovations)
LEED-CI (commercial interiors project)
LEED-CS (core and shell projects)
LEED-EB (existing buildings)
LEED-H (homes)
LEED-ND (neighborhood development)
As for builders themselves, the easiest way to become LEED certified is to take the Green Associate examination. The LEED Green Associate exam consists of 100 multiple-choice questions, and takes approximately 2 hours to complete. The entire exam process will take about two hours and twenty minutes.
The LEED Green Associate exam covers the following subjects:
synergistic opportunities and the LEED application process
project site factors
water management
project systems and energy impacts
acquisition, installation, and management of project materials
stakeholder involvement in innovation
project surroundings and public outreach
To become LEED certified, an individual needs to earn at least 170 on a scale ranging from 125 to 200.
LEED Study Guide
Explore our free LEED review provided by Mometrix. Check out our premium LEED study guide to take your studying to the next level. If you benefit from these materials, just click the link below! To compliment our LEED book, we also offer extensive LEED flashcards for even more LEED test prep help.
We hope you enjoy our products! Your purchase helps us make more great, free LEED certification content for test-takers just like yourself.