The birth of a baby is always a joyous time for a family. There's nothing like bringing a new life into the world. Through the pregnancy and birthing process, mom and baby need a certified, trained professional to help them both through these early stages of life. That's where neonatal nurses come in. These specialists have taken the Low Risk Neonatal Nurse Exam and received the RNC (Registered Nurse Certified) in Low Risk Neonatal Nursing. It is a detailed, complicated test that requires lots of preparation. Here are some things you should know, and some valuable resources that can help prepare you for the test.
Low-Risk Neonatal Overview
Who is eligible for the RNC certification in Low Risk Neonatal Nursing?
Candidates who have a current registered nurse license in the United States or Canada can take the exam. Candidates must meet both of the following criteria to be eligible:
Have 24 months of specialty experience with at least 2,000 hours throughout their career. Those hours can be attained through patient care, education, administration, or research.
Be employed in their specialty at some point in the last 24 months
How much does it cost to take test?
It costs a total of $325 to take the test. The fee includes a $275 test fee and non-refundable $50 application fee. If an application is incomplete, the candidate may be charged a $30 repossessing fee.
Is there an application deadline?
No. Candidates can take the test anytime. There is a 90-day testing windows that begins on the 5th and 20th of each month.
I've sent in my application. How long will it be before I'm approved to take the RNC certification in Low Risk Neonatal Nursing?
About four weeks. That's the time it takes to process, review, and approve your application.
How do I schedule my test time?
You can schedule by phone or online.
Do candidates use paper and pencil to take this test?
No. That option is no longer available. All tests are given via computer.
Where can I take the test?
The test is administered at one of more than 100 testing centers throughout the United States. Candidates can take the exam Monday through Saturday at either 9 a.m. or 1:30 p.m. Testing times are scheduled first-come, first-serve.
What categories are covered on the RNC certification in Low Risk Neonatal Nursing?
There are four areas covered on the exam:
General Assessment (14% of questions): Topics include fetal assessment, pregnancy related disorders, labor complications, abnormal labor patterns, and more.
Assessment and Management of Pathophysiologic Conditions (39% of questions): The second largest section of the test covers how to interpret physical assessments (cardio, respiratory, musculoskeletal, neurological and the like) and genetic, metabolic and endocrine conditions.
General Management (44% of questions): The largest section of the test examines resuscitation and stabilization (includes resuscitation management), neonatal nutrition (feeding techniques, expressing and storing breast milk, and other topics), pharmacology, thermoregulation, neurodevelopment care, infection and immunology, discharge planning/home care, and more.
Professional issues (3% of questions): Covers ethical issues, professional and legal issues, and safety and quality improvement.
What if I must change my test date, or I miss my test?
Candidates can request a change, but all requests must be approved by the National Certification Corporation (NCC). Candidates cannot receive a refund of their original fees. There's a non-refundable $125 fee to make any changes.
What if I must withdraw. Can I get a refund of my fees?
All requests to withdraw from the test must be sent, online, to the NCC. Refunds may be granted, and candidates would receive $160 of their original $325 fee.
I'm ready to take the RNC certification in Low Risk Neonatal Nursing test. What do I need to bring to the testing center?
Please bring two current forms of identification, with one containing a photo. A driver's license with a photo, a passport, military identification, and state issued identification with a photo are all acceptable. Both forms of identification must contain that candidate's name and signature. The following forms of ID are not acceptable — employment ID cards, student ID cards and any type of temporary identification. You should also bring your testing eligibility letter.
What items won't be allowed in the testing center?
No personal items, valuables or firearms are allowed. All electronic devices (including cellphones and tablets), books, dictionaries, and any other reference material, are among the items banned from the testing center. Candidates can bring a battery-operated basic calculator and a sweater or jacket (in case the room is too chilly) to the testing center.
How long will it take to get my test score?
You'll get a preliminary score after the test, and a final score in the mail within 21 days. If you pass, Certification takes effect when you receive the scores in the mail.
Can I retake the RNC certification in Low Risk Neonatal Nursing?
Yes, you can retest, but you must wait 90 days from your last test dates and pay the examination fee. While candidates can take the test as many times as they like, you can only take the test twice in a calendar year.
How long does certification last?
Certification lasts three years.
How do I get recertified?
You can maintain certification through continuing education credits.
Now you see why this is such a tough test to pass. It is also why you need a professional, detailed study guide to help you on your exam journey. Mometrix is here to help.
Our study guide has been designed by a group of professionals who are tops in their field. This comprehensive guide provides valuable insights on how to tackle the questions you'll be asked.
Our large, easy-to-read flashcards make it easy for a colleague to quiz you on the material you'll need to know to pass the test.
Our test preparation materials are the ones you need to help you succeed!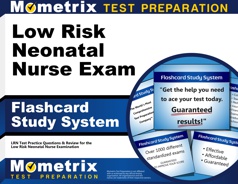 Low Risk Neonatal Nurse Flashcards. Proven Low Risk Neonatal Nurse test flashcards raise your score on the Low Risk Neonatal Nurse test. Guaranteed.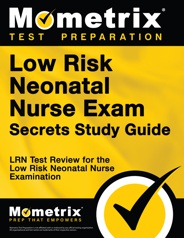 Prepare with our Low Risk Neonatal Nurse Study Guide and Practice Questions. Print or eBook. Guaranteed to raise your score. Get started today!