In order to be admitted to a law school approved by the American Bar Association, individuals must take the Law School Admission Test. This test, which was developed by the Law School Admission Council, measures reading and verbal reasoning skills.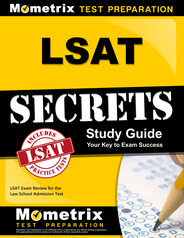 Prepare with our LAST Study Guide and Practice Questions. Print or eBook. Guaranteed to raise your score. Get started today!
The LSAT test is composed of five sections:
logical reasoning
reading comprehension
logic games
experimental
writing sample
All of these sections are composed of multiple-choice questions and last 35 minutes, with the exception of the writing sample, which entails a brief essay assignment lasting 30 minutes. The multiple-choice sections may appear in any order; the writing sample is always last.
In the logical reasoning section, two paragraphs of information will be followed by questions.
The reading comprehension section consists of four passages drawn from the following subject areas: humanities, natural sciences, social sciences, and law.
The logic games section consists of four puzzles followed by five to seven questions.
In the writing sample, the test-taker will be presented with a scenario and asked to argue a position.
The experimental section is unscored, and is used to develop future versions of the test.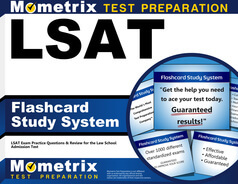 LAST Flashcards. Proven LAST test flashcards raise your score on the LAST test. Guaranteed.
By setting up an account with the Law School Admission Council, test-takers will receive an emailed copy of a score report three weeks after taking the exam.
Otherwise, scores may be obtained over the telephone or through the regular mail. An LSAT test score is based on the number of questions that have been answered correctly. Since there is no deduction for incorrect answers, students should guess on questions they do not know.
The number of questions answered correctly is converted into a score on a scale from 120 to 180. This score, along with a percentile rank, will be given to the test-taker as well as to any relevant institutions.
The LSAT test is administered four times a year by the at locations around the country; to register, visit the LSAC website.
Here are the sections on the LSAT test:
| | | | |
| --- | --- | --- | --- |
| SECTION | Total amount of time allotted | Number of questions | Time to answer each question |
| Analytical Reasoning | 35 min | 25 | 1.4 min |
| Logical Reasoning | 35 min | 25 | 1.4 min |
| Reading Comprehension | 35 min | 25 | 1.4 min |
| Analytical Reasoning/ Logical Reasoning/ Reading Comprehension* | 35 min | 25 | 1.4 min |
| Writing Sample | 30 min | 1 | 30 min |