The Master Addiction Counselor (MAC) exam is a certification test for substance use disorder and addiction professionals. By passing this exam, candidates can demonstrate their strong command of the skills and expertise required to excel in their career. While it's not a required certificate, holding one greatly improves your career advancement opportunities as well as your earning potential.
Who Is Eligible to Take the Master Addiction Counselor Exam?
The exam is only open to those with the right educational and professional background. Before you will be allowed to register for the exam, you need to provide proof that you meet the following eligibility criteria:
Hold a Master's Degree in addiction/substance use disorders and/or a related counseling subject such as psychology, mental health counseling, or social work.
Currently licensed or credentialed as either a substance use disorder/addiction counselor or as a similar professional counselor.
Have at least three years or 6,000 hours of full-time, supervised experience working as a substance use disorder/addiction counselor.
Have completed at least 500 hours of training and education in substance use disorders and addiction (where at least 50% of that training was face-to-face).
If you meet the criteria above, you can apply for the MAC exam online by completing an application form and providing the necessary documents to prove you meet the eligibility requirements. Along with this, you will need to pay the $235 exam fee.
How Should I Prepare for Test Day?
Once your application has been approved, you'll receive an email with a link and a code so that you can schedule the exam for a date and location that is convenient for you. You will have a total of three hours to respond to all 200 questions on the exam.
Make sure you are well rested and relaxed before the exam. Avoid late night cram sessions the night before and make sure you eat a nourishing breakfast the morning of the test.
What Will I Be Tested On?
The exam consists of 200 multiple choice questions spanning four different content areas. Here is a brief outline of what you will be expected to know:
Pharmacology and psychoactive substances – 56 Questions
Professional issues related to substance use disorder treatment – 56 Questions
Counseling Practice – 48 Questions
Co-Occurring Disorders – 40 Questions
Within each of those four content areas, you'll see questions that relate to the following topics:
Treatment admission (screening, intake, and orientation)
Discharge and continuing care
Clinical assessment
Legal, ethical and professional growth issues
Ongoing treatment planning
Case management
Counseling services (individual, group, family, crisis intervention and client education)
Documentation
All questions will be based on what you should have learned in your education, training, and work experience.
When Will I Find Out If I Passed?
You will receive an email with your unofficial scores right after you complete the exam so you will find out immediately whether or not you passed. If you need an official score report, you can request it at no additional cost as long as you do so within two months of taking the exam.
If you don't pass the exam on your first attempt, you will be allowed to retake it up to three times per calendar year. However, you have to pay the full exam fee for each attempt so it's better to schedule it for a date far enough in advance that you have enough time to study and get completely prepared before your first attempt.
Do I Need to Study for the Master Addiction Counselor Exam?
Even though you will have seen most of the material on this exam either during your education and training or at work, it is still worth spending at least two to three weeks reviewing each of the content areas. There will likely be some things that you have forgotten or just aren't your strongest areas of expertise.
To help you review everything you need to know without having to go back through all of your old textbooks, pick up the Mometrix Study Guide and Mometrix Flashcards. With these study aids, you'll have access to a comprehensive overview of all the important concepts broken down into easy to follow chapters. Both the guide and the flashcards come with practice questions where you can apply your knowledge to exactly the kind of questions you will see on the test.
For each question, you'll get clear explanations showing you the logic behind the correct answer so that even the questions you answer incorrectly will be opportunities to learn and strengthen your understanding of the material. You can further improve your command of the material as well as other essential test-taking skills by using the flashcards to give yourself fast-paced pop quizzes.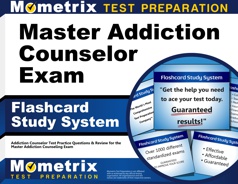 Master Addiction Counselor Flashcards. Proven Master Addiction Counselor test flashcards raise your score on the Master Addiction Counselor test. Guaranteed.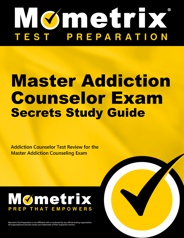 Prepare with our Master Addiction Counselor Study Guide and Practice Questions. Print or eBook. Guaranteed to raise your score. Get started today!