The Master Electrician Exams are a group of state-specific examinations that are used to determine whether or not an individual possesses the skills and knowledge necessary to work as a certified or licensed master electrician within a particular state.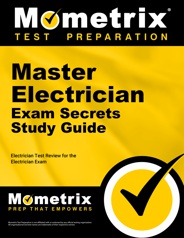 Prepare with our Master Electrician Study Guide. Print or eBook. Guaranteed to raise your score. Get started today!
These exams are designed to assess the individual's knowledge and understanding of the National Electrical Code, the laws and regulations of the state in which the individual is pursuing a career, basic and advanced electrical theory, electrical layout, and electrical design. The exact format of each exam and the exact requirements that are necessary to receive licensure or certification within each state varies from state to state.
However, in most states, an individual interested in becoming a licensed or certified master electrician must have experience working as a journeyman electrician and must pass the master electrician exam administered by the state. The amount of work experience required by each state is usually at least two years of journeyman experience, but the amount of experience required prior to taking the master electrician exam can vary greatly.
Some states do not require that an individual become certified or licensed in order to work as a master electrician so it is important to check with the local electrical licensing authority to determine what laws and regulations apply to master electricians in the particular jurisdiction in which the individual is pursuing a career. Individuals that receive a master electrician license or certification or are not required to have a license or certification in that particular state, but meet any other requirements set by the state to work as a master electrician are almost always allowed to conduct electrical work on any electrical system and are allowed to design and layout new electrical systems without additional supervision or assistance.