The Maternal Newborn Nursing Exam is for all currently licensed RNs in the US or Canada who have at least 2,000 hours of specialized experience in the field and would like to become officially certified as a maternal newborn nurse.
How and When Can I Register for the Maternal Newborn Nursing Exam?
In order to register for this exam, you first need to establish your eligibility to take it. During the application process, you will need to provide:
Your RN license number, issuing state, and expiration date.
Current employment details
Your employment history over the last five years
Proof of specialized experience over 24 months and a minimum of 2000 hours (in the form of either direct patient care, education, administration, or research)
Once you have received your eligibility letter confirming that you can take the exam, you can register for the test itself. It is offered on a continuous basis so you can schedule your appointment for whatever date and time is most convenient. However, it's advisable to schedule your appointment as soon as you receive the letter to make sure you get the date you want.
At the time of scheduling, you will need to pay the $325 exam fee, which includes a $50 non-refundable application cost, if your educational institution hasn't paid for it already. You should also make any arrangements for special accommodations due to disabilities if you require it.
What Subjects Will Be Included?
There are 175 questions altogether on the Maternal Newborn Nursing Exam, with 25 of them are embedded throughout the exam as pretest items. All of them are multiple choice with three possible answers. The questions are divided into five key subject areas that assess both your basic knowledge and your ability to apply that knowledge:
Factors affecting pregnancy, birth risk factors and complications (7%)
Maternal postpartum assessment, management and education (26%)
Newborn assessment and management (19%)
Maternal Postpartum Complications (24%)
Newborn Complications (24%)
As you can see, the most significant subjects are the assessment and management of both the mother and the newborn from the time immediately prior to the birth through the roughly six weeks after the infant is born.
The exam measures your understanding of all the most important physiological, psychological, and sociocultural factors that can affect the childbearing family during this time period. You'll need to be able to identify potential health risks (physical, mental, and behavioral) and help develop and implement individualized plans for each family.
What Should I Expect on Test Day?
On the day of the exam, you need to arrive 15 minutes before the actual time of your appointment. This allows you enough time to check in, go through the identification process, and get acquainted with the testing center. Before you leave your house, make sure you have the following items with you:
Your eligibility letter
Two forms of government-issued ID (driver's license, state ID, passport, military ID)
A sweater or light jacket that you can easily put on or remove during the exam
A basic calculator
Do not bring any other personal items into the testing center, not even your purse. The test supervisor will provide you with pencils and scratch paper to use during the test but you will need to return all of it at the end. You'll have three hours to complete all 175 questions which will be administered via computer.
What Scores Do I Need to Pass?
There is no minimum score requirement and you won't be able to actually see the precise score you got on the test. While this lack of concrete information can be disappointing, it just means you have to focus on doing your best.
Though you will never be able to see your exact score, you will receive a preliminary notice immediately after you finish the exam letting you know whether you passed or failed. So you don't have to wait in anticipation to find out if you'll need to retake it. If you do need to retake the test, you can schedule your next appointment right there at the testing center but your next appointment must be at least 90 days after your first attempt.
After that, your official report will be sent to you via mail within 21 business days. This report will give you more detailed feedback about each content area, ranking them on a scale of very weak to very strong so that you can see which subjects you might need more work on.
How Can I Prepare for the Exam?
The NCC provides its own list of text books and resources that they recommend studying in preparation for the test. However, it is an enormous amount of material which makes it rather difficult to figure out exactly which areas to focus most of your energy on and which ones you are better off not worrying about.
So to help you dig through the material efficiently and thoroughly without wasting your time or getting overwhelmed, you should also use the expertly-crafted Mometrix study guide. It is built on original research and designed in a way that is highly detailed without getting too bogged down in irrelevant information. As a bonus, it also comes with a precise study plan to help you work through all of the relevant information in a timely and efficient manner.
Because the Maternal Newborn Nursing Exam is content-driven—meaning it seeks to measure what you already know, not your potential to learn—it's essential that you work on your ability to recall everything you know quickly. You need to be able to answer a wide range of questions in a very limited amount of time.
The best way to improve the speed of your recall as well as the amount of information you are able to store in your mind, you should use Mometrix flashcards along with their proven strategy. Each card contains a concise but relevant explanation created by the same team of experts who put together the comprehensive study guide.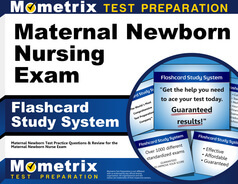 Maternal Newborn Nursing Flashcards. Proven Maternal Newborn Nursing test flashcards raise your score on the Maternal Newborn Nursing test. Guaranteed.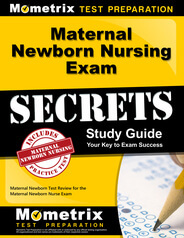 Prepare with our Maternal Newborn Nursing Study Guide and Practice Questions. Print or eBook. Guaranteed to raise your score. Get started today!