The Massage and Bodywork Licensing Examination (MBLEx) is one of two national tests that certify the massage therapist to operate in all fifty states. The advantage of MBLEx certification is that the certificate follows the therapist across state lines, eliminating the need for separate state certifications.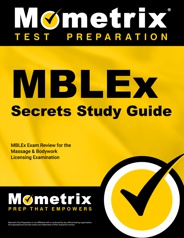 Prepare with our MBLEx Study Guide and Practice Questions. Print or eBook. Guaranteed to raise your score. Get started today!
The Massage & Bodywork Licensing Examination has 100 multiple-choice questions that must be answered in two hours. While anyone may take the test, it is administered in the English language only. MBLEx is a computerized test, and it may be taken an unlimited number of times. 
The Massage and Bodywork Licensing Exam requires a thorough knowledge of human anatomical and physiological body systems. Muscular-skeletal function is also an important part of the MBLEx.
Anatomy and physiology comprise 12% of the exam, with a focus on endocrine, circulatory and digestive functioning, as well as the nervous system and skeletal structure.
Kinesiology accounts for 11% of the exam, most of it concentrated in the areas of muscle utility, range of motion, and the location and function of muscle fiber and attachment ligaments.
Pathology makes up 13% of the exam; the content in this area pertains to pain, discomfort or impaired movement caused by injury or age or other conditions of special populations.


MBLEx Flashcards. Proven MBLEx test flashcards raise your score on the MBLEx test. Guaranteed.

Remedial activities of massage therapy make up 14% of the exam, focusing on the benefits of massage techniques and soft tissue manipulation, and the methodologies that match the condition.
Diagnosis and assessment of patient injury, limitations or other physiological conditions make up 17% of the exam, with a stress on data collection, consultation and communication with clients, and holistic diagnostic techniques. The development of a treatment strategy is the result of effective communication and an accurate physical history.
5% of the test is devoted to a general overview and history of massage within a variety of contexts.
15% of test questions are concerned with adherence to high standards of ethical behavior and knowledge of the laws and regulations that apply to the profession.
Business operations occupy a significant portion of the exam. About 13% of questions will be directed toward hygiene, safety considerations, and injury prevention. The maintenance and privacy of client records is essential.
MBLEx Study Guide
Explore our free MBLEx review provided by Mometrix. Check out our premium MBLEx study guide to take your studying to the next level. If you benefit from these materials, just click the link below! To compliment our MBLEx book, we also offer extensive flashcards for even more MBLEx exam prep help.
We hope you enjoy our products! Your purchase helps us make more great, free MBLEx certification content for test-takers just like yourself.