The American Nurses Credentialing Center's (ANCC) Medical-Surgical examination is a competency-based exam assessing your clinical skills and knowledge as a medical-surgical nursing specialist. The exam tests your competency as an entry-level specialist after your initial RN licensure. When you pass the certification examination, you are awarded the Registered Nurse-Board Certified (RN-BC) credential. The certification is accredited by the National Commission for Certifying Agencies (NCCA) and the Accreditation Board for Specialty Nursing Certification. The credential is valid for five years.
Why should I become certified?
When you obtain ANCC certification, you are demonstrating your competency, skills, and knowledge in medical-surgical nursing. The certification is voluntary and provides you an opportunity to show your employer, patients, and colleagues your dedication to your continued growth and professional exceptionalism.
Eligibility
To sit for the credentialing examination, you need to hold a current, active Registered Nurse (RN) license in the United States and its territories or the equivalent license from another country. Additionally, you need to have two years as a practicing, full-time nurse, 2000 hours of clinical practice in medical-surgical nursing in the past three years, and 30 hours of completed continuing education in medical-surgical nursing.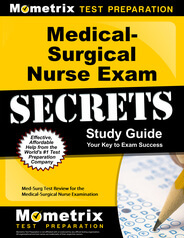 Prepare with our Medical Surgical Study Guide and Practice Questions. Print or eBook. Guaranteed to raise your score. Get started today!
Registration, cost, and location
To register for the exam, you must first complete an application to test. The application is found online at the ANCC website and requires you to submit your eligibility information as well as payment.  The application fee is $295.00 for American Nurses Association (ANA) members and $395.00 for non-members. Your application fee includes a $140.00 non-refundable administration fee. Payment is accepted in a variety of formats including credit/debit card, personal check, and company voucher. If your application is denied, your fee, minus the administrative fee, is returned.
When your application is approved, ANCC notifies you by email. You have a 90-day window to schedule your exam at a Prometric testing center at a time and location convenient for you. Prometric testing centers are located worldwide.
Test content and design
The Medical-Surgical Nursing Board Certification exam consists of 150 computer-delivered questions. Twenty-five questions are not scored, but you will not be able to identify the scored and not scored questions. You have three hours to complete the exam.
The questions on the exam are presented using different methods, including drag and drop, selected-response, hot spot, and fill in the blank. Each question is designed to evaluate your critical knowledge and skills at an entry-level position within medical-surgical nursing.
The examination consists of three domains of practice:
Assessment and diagnosis – 52 questions
There are six skills and one knowledge area addressed in this domain. The skills include health and history collection; physical, psychosocial, and cognitive assessment; diagnostic and laboratory testing; and nursing diagnosis identification and prioritization. Your knowledge of fluids and electrolytes, including imbalances, disease-related issues, and blood products, are examined within this domain.
This domain is 42% of the examination.
Planning, implementation, and evaluation – 58 questions
Your skills that are assessed within this domain include nursing care planning, interventions, modifications, and outcomes; postoperative complication and management; and patient teaching – including identifying learning preferences and barriers. Knowledge topics include the education of the patient; patient safety measures; complementary and alternative medicine treatments; diversional activities; medicinal interactions and adverse effects; and health and wellness promotion.
This domain is 46% of the exam and makes up the majority of the content.
The professional role – 15 questions
The skills assessed in this domain include communication with the patient, family, and community, highlighting your competence in delivering therapeutic care, family-centered involvement, and cultural sensitivity and expertise. Your knowledge of nursing ethics, including evidence-based practice and advocacy, are evaluated in this domain.
This domain is 12% of the exam.
Each question is designed to evaluate your competence in medical-surgical nursing, including the application of theoretical knowledge in real-life situations.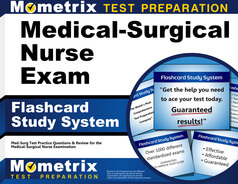 Medical Surgical Flashcards. Proven Medical Surgical test flashcards raise your score on the Medical Surgical test. Guaranteed.
Test Day
Your appointment duration is scheduled for four hours. The exam itself is three and a half hours, and the extra 30 minutes is used for procedural paperwork and computer tutorials.  Arrive at least 15 minutes before your exam, so you have time to secure your belongings, check in, and get situated at your testing station. Part of the administrative procedures on test day includes agreeing to the test policies and verification of your identity.
Once the initial check-in is completed, you are escorted to your station. You are provided a dry erase board and pen to take notes and work out questions. The certification exam is closed-book, and you are not allowed to bring aids with you into the testing center.
Before you begin your test, you have the chance to take a short tutorial. The tutorial allows you to become familiar with the delivery method and answer questions before your exam starts. During your exam, you can flag questions for review, and if time allows, return to the flagged questions to check your work. You are scored on correct answers, and incorrect responses do not count against your final score. With that being said, make the best selection you can so you do not leave any question unanswered.
Exam scoring and results
An unofficial score report is provided as soon as you complete your exam. If you passed, you can immediately start using the credential, RN-BC. In about four weeks, your official score is sent to you by U.S. Mail. Your certification is valid for five years.
The Medical-Surgical Certification exam is scored on a scale of 100 to 500, with 350 the minimum passing score. If you did not pass, your report will include information on each domain to help you focus your study efforts. After a 60-day waiting period, you can apply to retest. You are allowed three attempts per a calendar year.
Preparation
The Medical-Surgical Nursing credential is voluntary, but the value it will add to your professional career cannot be diminished. Obtaining the credential broadcasts to your employer, patients, colleagues, and family that you are serious about achieving and maintaining the highest standards in nursing. With the RN-BC comes an opportunity for increased responsibility, better pay, and career advancement. If you are going to take the certification, do not mess around with your study plan.
Mometrix Test Preparation is your secret weapon when it comes to preparation. Experts have painstakingly researched and developed each content domain to provide you with a comprehensive study guide, online course, and flashcards that will lead you to successful attainment of the RN-BC credential. With a 100% money-back guarantee, you have nothing to lose but stress.  
Medical-Surgical Nurse FAQ
Q
What is the Medical-Surgical Nurse certification?
A
Medical-Surgical Nurse certification gives participants the chance to validate their knowledge and skills.
Q
How much does it cost to take the Medical-Surgical Nurse exam?
A
The application fee for the Medical-Surgical Nurse exam is $295 for AMSN members and $395 for nonmembers.
Q
How do you become Medical-Surgical Nurse certified?
A
To become Medical-Surgical Nurses certified, you will need to pass a Medical-Surgical Nurse certification exam.
Q
What is the Medical-Surgical Nurse exam?
A
The Medical-Surgical Nurse exam is a 150-question test that validates proficiency in medical-surgical nursing.
Q
Is the Medical-Surgical Nurse exam all multiple choice?
A
Yes, all 150 questions on the Medical-Surgical Nurse exam are multiple-choice.
Q
How long do you have to take the Med-Surg Nurse test?
A
The Med-Surg Nurse test has a time limit of 3 hours.
Q
How do you sign up for the exam?
A
You can sign up for the exam by visiting the certification board website.
Q
What is the pass rate for the Medical-Surgical Nurse certification test?
A
The pass rate for the Medical-Surgical Nurse certification test is currently 81%.
Q
What is a passing score for the Medical-Surgical Nurse exam?
A
A passing score for the Medical-Surgical Nurse exam is a 95, which means you must answer 71% of the questions correctly.
Q
How many questions are on the Medical-Surgical Nurse test?
A
There are 150 multiple-choice questions on the Medical-Surgical Nurse test. The paper-and-pencil format also contains 25 experimental questions with an additional hour of testing time.
Q
How long does it take to become a medical surgical nurse?
A
Depending on what sort of degree is chosen, it can take anywhere from 2-4 years to become a medical-surgical nurse.