MT Exam – Medical Technologist Exam: The MT Exam is a certification examination created by American Medical Technologists (AMT) and administered by Pearson VUE that is used to determine if an individual has the knowledge necessary to be a competent entry-level medical technologist. This exam is required in order to receive a medical technologist certification, which is usually all that is necessary in order to practice. However, some states may require an individual to become licensed or registered with the local licensing authority, which may have other requirements in addition to or instead of the MT exam.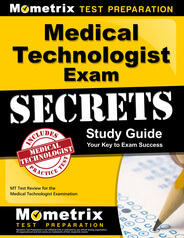 Prepare with our Medical Technologist Study Guide and Practice Questions. Print or eBook. Guaranteed to raise your score. Get started today!
The exam consists of 200 – 210 multiple-choice questions that are related to six main areas, which includes:
Chemistry (19%)
Hematology (19%)
Immunology and Immunohematology (19%)
Microbiology focusing on Bacteriology, Parasitology, and Mycology (19%)
General Laboratory Knowledge and Procedures (14%)
Urinalysis (10%)
The exam-taker will have three hours to complete the exam with no scheduled breaks during that period.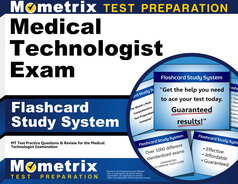 Medical Technologist Flashcards. Proven Medical Technologist test flashcards raise your score on the Medical Technologist test. Guaranteed.
The exam is scored based on a scale of 0 – 100 with 70 considered as the minimum score necessary to pass the exam. This score is not an exact percentage score as each question is assigned a weight based on the difficulty of the question and the final score is determined using these weights.
To register for the exam, you must have a bachelor's degree from an accredited medical technology program or an associate's degree from an accredited medical technology program with at least 90 semester hours and at least 60 of those hours must be part of the associate program.
You are also eligible if you have attended school for 3 years with at least 90 semester hours at an accredited university and at least 40 of those hours must have been devoted to medical technology related courses.
In addition to fitting one of these three eligibility requirements, you must also have completed at least one year of approved laboratory experience and at least 16 hours of chemistry, 16 hours of biology, and 3 hours of math related courses. If you meet these requirements, you can register for the exam by mailing a completed application to AMT.
After you register, you will receive a confirmation letter with instructions on how to schedule a testing date with Pearson VUE. The exam is offered in both a computerized and written format and the registration fee is $125.
Medical Technology Examination Review and Study Guide
Explore our free Medical Technologist review provided by Mometrix. Check out our premium Medical Technologist study guide to take your studying to the next level. If you benefit from these materials, just click the link below! To compliment our Medical Technologist book, we also offer extensive Medical Technologist flashcards for even more Medical Technologist test prep help.
We hope you enjoy our products! Your purchase helps us make more great, free Medical Technologist certification content for test-takers just like yourself.