The Michigan Test for Teacher Certification (MTTC) Elementary Education Exam is used to determine whether prospective teachers have the skills and knowledge necessary to become a teacher in the state of Michigan. The purpose of the MTTC Exam is to be sure that all Michigan teachers are prepared and have all the content area knowledge they will need.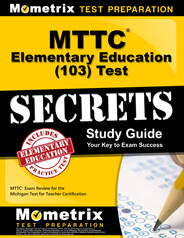 Prepare with our MTTC Elementary Education Study Guide and Practice Questions. Print or eBook. Guaranteed to raise your score. Get started today!
How is the exam formatted?
The exam is computer-based and consists of 150 multiple choice questions.
How much time will I have to complete the exam?
You will have 3 hours and 30 minutes to complete the entire exam.
How do I register for the exam?
You may register for the exam on the official MTTC website. You will be given step by step instructions from there.
After you register, you will receive an email with the time and date of your exam, as well as the location.
When and where is the exam given?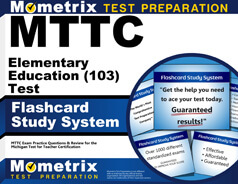 MTTC Elementary Education Flashcards. Proven MTTC Elementary Education test flashcards raise your score on the MTTC Elementary Education test. Guaranteed.
The MTTC Elementary Education Exam is given year-round, Monday through Saturday by appointment only. You will be taking the exam at a Pearson Vue testing site located in Michigan and around the country.
What score do I need to get to pass?
In order to pass the exam, you will need to score at least 220 points.
How much does it cost to take the exam?
There is a $129 testing fee.
What will I be tested on?
The exam topics are broken down into six subareas:
English Language Arts and World Languages (24%): This section tests an individual's knowledge of language. The test-taker will need to have an understanding of vocabulary and reading comprehension; and the characteristics of narrative and expository texts. You will also need to understand the foundations of emergent literacy.
Social Studies (16%): You will need to have knowledge of history and be apply to apply that to understand the past; you will need to have knowledge of the fundamental concepts of geography; You will be tested on civics and government; concepts of economics; and you will need to understand concepts that deal with public discourse.
Visual and Performing Arts (10%): This section tests your understanding of the arts. You will need to know concepts, elements, functions, and styles of the arts, and creative processes. You will also need to understand communication through the arts.
Mathematics (22%): The mathematics section tests your knowledge of mathematical reasoning and problem-solving. You will also need to understand concepts of numbers; numerical computation; concepts of direct and indirect measurements. You will need to have an understanding of concepts of algebra; Euclidean geometry; and data analysis and probability.
Science (18%): The science section of the exam tests your knowledge of how scientific knowledge is constructed. You will need to understand the nature of scientific knowledge; concepts of life science; concepts of earth/space science; and concepts of physical science.
Health Education and Physical Education (10%): In this section, you will need to have an understanding of the strategies of health education and the strategies of physical education.
Can I guess the answer to a question if I don't know the answer?
Yes. There is no penalty for wrong answers. Therefore, it is better to guess rather than leave a question blank.
When will I get my exam results?
Your exam results will be available 6 weeks after testing.
What will exam day be like?
On the day of your exam, be sure to arrive at the testing site at least fifteen minutes early. You will need to have a valid photo ID on you. If you do not have a valid photo ID on you, you will not be able to take the exam.
I need to prepare for the MTTC Elementary Education Exam. Any suggestions?
Yes! Mometrix Test Preparation is a great choice because our study guide and flashcards contain only the information you will need to know for your exam. Intense research has gone into our study material so that the test-taker is not spending time studying unnecessary topics. Our study guide and flashcards are detail specific yet easy to understand and apply. You're even given sample questions to familiarize yourself with the exam layout. With Mometrix Test Preparation you will take and pass your exam the first time around.
Online MTTC Elementary Education Prep Course
If you want to be fully prepared, Mometrix offers an online MTTC Elementary Education Prep Course. The course is designed to provide you with any and every resource you might want while studying. The MTTC Elementary Education Course includes:
Review Lessons Covering All the Topics
450+ MTTC Elementary Education Practice Questions
380+ Video Tutorials
More than 1100 Electronic Flashcards
Money-back Guarantee
Free Mobile Access
and More!
The MTTC Elementary Education Prep Course is designed to help any learner get everything they need to prepare for their Elementary Education exam; click below to check it out.