Being an elementary school teacher is a challenging career choice. At this level of education, teachers must be able to teach a broad range of subjects, from math to English to P.E. It's imperative that they have sufficient knowledge to teach these courses to students at various grade levels. Prospective teachers in Michigan must be knowledgeable of state standards, and in order to ensure they have the skills and knowledge to succeed in a classroom environment, they must take and pass the MTTC Elementary Education Exam.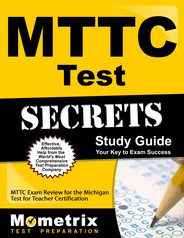 Prepare with our MTTC Study Guide and Practice Questions. Print or eBook. Guaranteed to raise your score. Get started today!
The MTTC Elementary Education Test is a multiple-choice test consisting of 150 questions. You can take the test using a computer or pencil and paper. A score of 220 is considered passing.
The test consist of six subareas. The focus is on English language arts and world languages, which accounts for 24% of the total test questions. The other subareas are social studies, visual and performing arts, math, science, and health education and physical education.
The exam encompasses many topics. For the English language arts subarea, you will be tested on acquisition and learning of languages, languages and culture, literacy, phonetics, word recognition, spelling, vocabulary, reading comprehension, narrative and expository texts, the writing process using United States English and expression of ideas through various types of communication.
MTTC Elementary Education Practice Test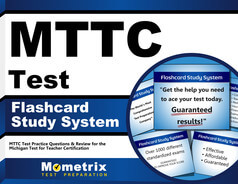 MTTC Flashcards. Proven MTTC test flashcards raise your score on the MTTC test. Guaranteed.
The social studies portion will test your knowledge of history of Michigan and the United States, geography, civics, government, public policy, economics and citizen involvement. The visual and performing arts subarea includes questions about dance, music, theater, appropriate arts instruction, communication of ideas and ethical considerations.
For the math subarea, expect to be tested on number theory, problem-solving strategies, number systems, order of operations, algorithms, measurement, Euclidian geometry, algebra, data analysis and probability. The science subarea will test your knowledge of scientific inquiry, scientific knowledge, life science, earth and space science and physical science. The health education and physical education subarea focuses on nutrition, exercise, substance abuse, healthy life choices, physical activity and fitness.
Don't expect to pass this challenging test without some preparation. There are several tools that can help, including the MTTC Elementary Education Practice Test. This test will show you how the questions are formatted and give you an idea of the types of questions to expect so you won't be surprised when it comes time to take the real test.
The MTTC Elementary Education Test is also helpful. The guide breaks down the various elements of the test for you so you can see which concepts will appear on the test. This will be a great help when you need some assistance knowing what to study.
Click Here for MTTC Practice Test