The National Asthma Educator Certification Board Exam, also known as the NAECB Exam, is a certification examination written by NAECB and administered by Applied Measurement Professionals (AMP) that is designed to determine whether or not an individual possesses the skills and knowledge necessary to help individuals with asthma and their families understand and control the individual's condition.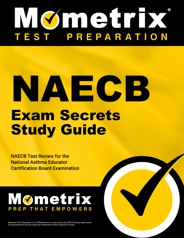 Prepare with our NAECB Study Guide. Print or eBook. Guaranteed to raise your score. Get started today!
This exam assesses the individual's understanding and knowledge of the basic aspects and effects of asthma, factors that can affect the health of an individual with asthma, methods for patient and family assessment, asthma management techniques, professional concerns, and a variety of other similar topics related to caring for individuals with asthma.
This exam is required in order for an individual to receive the Certified Asthma Educator credential, which is usually not required to work as an asthma educator, but it can be an extremely useful resume-builder for individuals that are seeking to advance their careers in asthma counseling and education.
The NAECB Exam consists of 175 multiple-choice questions, 150 of which are scored and 25 that are not scored, that are split into the following four sections: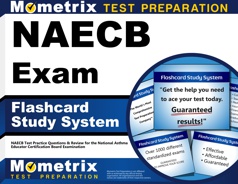 NAECB Flashcards. Proven NAECB test flashcards raise your score on the NAECB test. Guaranteed.
The Asthma Condition (Approximately 30 questions)
Patient and Family Assessment (Approximately 35 questions)
Asthma Management (Approximately 70 questions)
Organizational Issues (Approximately 15 questions)
The exam-taker will have 3 and ½ hours to complete the exam and the exam-taker will receive a pass/fail grade based on whether or not he or she makes a number of correct responses that equals or exceeds the threshold set by NAECB.
The exact number of correct responses required to pass the exam varies as it depends on the specific questions that are included on each particular version of the exam. In order to register for the NAECB Exam, the individual interested in pursuing certification must be a currently licensed or certified health professional from the NAECB's list of accepted health professionals or have at least 1000 hours of experience as an asthma educator or counselor.
The certified or licensed health professionals that NAECB currently accepts as eligible for the NAECB exam include health educators, nurses, occupational therapists, pharmacists, physical therapists, physicians, physician assistants, pulmonary function technologists, respiratory therapists, and social workers. Individuals that meet one of these two requirements may register for the exam by submitting an application form to NAECB online or by mail. The registration fee for the exam is currently $295.
Asthma Educator Study Guide
Explore our free Asthma Educator review provided by Mometrix. Check out our premium Asthma Educator study guide to take your studying to the next level. If you benefit from these materials, just click the link below! To compliment our Asthma Educator book, we also offer extensive Asthma Educator flashcards for even more Asthma Educator test prep help. We hope you enjoy our products! Your purchase helps us make more great, free Asthma Educator certification content for test-takers just like yourself.