Americans love to exercise and play sports. That means the occasional sprain, strain, broken bone or worse. When you seek out treatment, you'll must likely see an athletic trainer at some point in your recovery. Athletic trainers specialize in treating injuries to the muscle and bone. All athletic trainers need certification, and it's a tough test—the Board of Certification Athletic Training exam. What's it like? What study guide can I use to help pass the test? We have the answers below.
What steps do I need to complete before taking the BOC Athletic Training Exam?
Think of this as a three-step process.
Candidates must first possess a bachelor's or master's degree from an accredited professional athletic training education program.
Candidates must complete a program accredited by the CAATE – the Commission on Accreditation of Athletic Training Education.
When candidates complete steps one and two, they are then eligible to become certified. The certification exam is administered by the Board of Certification (BOC).
You have one year to take the exam from the date you've been approved.
What are the exam fees?
Fees vary based on professional organization affiliation and other factors. The exam registration fee is $35 to $60. The exam fee for first first-time and re-take candidates is $330.
What identification should I bring to the exam?
Please bring a valid, unexpired, government issued ID that includes a photo, your name and signature. Your name must exactly match the name on your testing documents. Candidates must also bring their email verification that contains their exam registration information.
How many questions are on the test?
There are 175 questions on the test, and the test time is four hours. Each exam contains unscored questions. Results are available two to four weeks after the test.
What are the subject areas covered on the BOC Athletic Training Exam?
The test covers five categories, called domains. They are:
Risk Reduction, Wellness, and Health Literacy: Topics covered include identifying risk factors; how to use personal equipment; individual and group safety; and wellness optimization.
Assessment, Evaluation, and Diagnosis: Topics include using a patient's history to determine illness and injury; performing a physical examination; interpreting data (history and physical exam) to determine course of action; and patient education.
Critical Incident Management: Topics include triage; emergency care procedures; and referral strategies.
Therapeutic Intervention: Topics include plans of care; patient and stakeholder education; administering therapeutic exercises; and administering manual techniques and therapeutic interventions.
Healthcare Administration and Professional Responsibility: Topics include evaluating outcomes (organizational, personal and stakeholder); developing policies and strategies to address risk and needs; and practicing within established local, state, and national guidelines.
Candidates who pass the BOC exam and receive certification must check with their state regulatory agency to ensure they are in compliance with local regulations.
What are the rules on exam day?
Make sure you arrive early on test day. Candidates who arrive late risk being denied admission to take the test. If that happens, you lose your exam fee. Personal items, such as all electronic devices, coats, book bags, etc., cannot be brought into the testing room.
Can I reschedule or cancel my exam?
Yes. It costs $50 to $100 to reschedule, and the fee depends on your new test date. Candidates who cancel their exam prior to scheduling the test are eligible for a refund of half (50 percent) of their exam fees; candidates who cancel after they have scheduled the test are eligible to receive 25 percent of their fee.
You can see why you need a professionally designed study guide written by experts in test-taking techniques. Mometrix has you covered. Our study guide provides the tips you need to pass—everything from the types of questions you're likely to face and tips on answering them. You can also use our flashcard system, which unlocks the secrets of how to solve difficult questions. Don't go into the test unprepared. Both of these tools can help you succeed.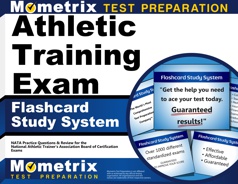 Athletic Training Flashcards. Proven BOC Athletic Training test flashcards raise your score on the test. Guaranteed.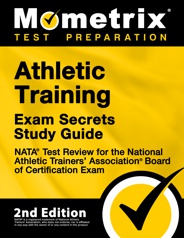 Prepare with our BOC Athletic Training Study Guide and Practice Questions. Print or eBook. Guaranteed to raise your score. Get started today!