Veterinary medicine is on the rise. The Bureau of Labor Statistics expects jobs for veterinarians to grow 19 percent through 2026, a figure that's much higher than average. After completing studies, prospective veterinarians must pass the North American Veterinary Licensing Examination (NAVLE). All licensing jurisdictions in the United States require candidates to pass this test, which is administered by the International Council of Veterinary Assessment. This overview tells you what you need to know about the exam and offers an excellent array of study materials to help you prepare.
What are the exam's eligibility requirements?
There are a host of educational requirements candidates must meet before taking the exam. The eligibility criteria differ depending on whether the candidate has attended an accredited or non-accredited institution. States could also have different test requirements. It's best to check the International Council of Veterinary Assessment website for details.
Where can I take the exam?
The International Council of Veterinary Assessment uses a private company to deliver the exam to candidates. There are hundreds of test centers across the country.
When can I take the test?
The NAVLE is currently offered during two testing windows — one in April and the other November-December.
How many questions are on the exam?
The test has 360 questions, of which 300 are scored and 60 are unscored.
What's on the North American Veterinary Licensing Examination?
This comprehensive exam contains two sections, Activities and Diagnosis.
ACTIVITIES
Data Gathering and Interpretation. This section includes patient assessment areas such as obtaining a history and performing a physical examination; determining an animal's status; maintaining medical records; list development such as a problem list and a differential diagnosis list; and using information to determine a final diagnosis.
Heath Maintenance and Problem Management. This section includes prevention and treatment evaluations; implementing a plan of action; outcome assessment; and professional behavior, which includes behaving in a professional, ethical, and legal manner; continuing education; showing empathy; and adhering to client and patient relationship regulations.
DIAGNOSIS
The diagnosis section tests candidates on their ability to diagnose health issues in 11 different animal species, including canine, feline, pet birds, equine, and poultry. Areas covered include:
Cardiovascular, including congenital heart abnormalities and congestive heart failure
Endocrine, including hyperadrenocorticism and hypoadrenocorticism
Gastrointestinal, including gastric tumors and ulcers, malnutrition, and oral tumors
Hemic/Lymphatic, which includes anemia, mass cell tumor, and transfusion therapy
Integumentary, including abscesses, bite wounds, and burns
Musculoskeletal, including degenerative joint diseases, hip dysplasia, and luxating patella
Nervous, which includes brain tumors, meningitis, and seizure disorders
Reproductive, including neo-natal care
Respiratory, including nasal disease and cough
Special senses, like cataracts and blindness
Urinary, such as chronic kidney disease and urinary incontinence
Multi-systems, which includes sepsis and shock
Infectious, such as heartworm disease and rabies
Behavior, such as aggression and phobias
How much time can I expect to spend at the test center?
Candidates should expect to be at the test center for 7 hours and 30 minutes. That includes 6 hours and 45 minutes for the exam itself, and time for a tutorial (15 minutes) and breaks (45 minutes).
What is the fee to take the exam?
Candidates pay a $650 exam fee.
Should I arrive at the test center before my exam time?
Yes. Please arrive at least 30 minutes before your appointment. Any candidate who arrives late may not be admitted to the exam room. Anyone who arrives more than 30 minutes late won't be allowed to take the exam.
What forms and identification will I need on test day?
Make sure to bring your admission form because it contains your candidate identification number. Candidates must also show a piece of government-issued identification that contains a photo and signature. A driver's license or passport are acceptable forms of identification.
Can I bring my cell phone into the test room?
No. Personal items, including cell phones and all electronic devices, are not allowed in the test room and must be placed in a locker at the test center.
Can I retake the North American Veterinary Licensing Examination if I fail it?
Yes. Candidates can retake the exam. Retake policies can vary from state to state, so it's best to check your local jurisdiction's policy.
This is an important test. Where can I buy the best materials to help me prepare?
That's simple. Mometrix, the test preparation company, has the materials you need.  Our study guide includes comprehensive sections on heartworm infection, feline leukemia virus, periodontal disease, and dozens of other topics. Our flashcards include test questions and allow you to study in small, easy chunks. This is a challenging exam, and these materials are the best to help you prepare for the North American Veterinary Licensing Examination.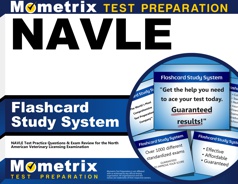 NAVLE Flashcards. Proven NAVLE test flashcards raise your score on the NAVLE test. Guaranteed.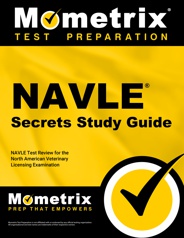 Prepare with our NAVLE Study Guide and Practice Questions. Print or eBook. Guaranteed to raise your score. Get started today!