The National Board for Certification in Occupational Therapy (NBCOT) has created exams to assess the knowledge and skills of people who wish to pursue employment in this rapidly growing field. Individuals who receive NBCOT certification are considered to have all the essential qualities possessed by the most excellent practitioners.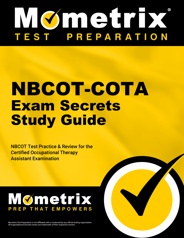 Prepare with our Occupational Therapy Assistant Study Guide and Practice Questions. Print or eBook. Guaranteed to raise your score. Get started today!
The Certified Occupational Therapy Assistant exam (NBCOT-COTA) is designed for individuals who wish to help registered occupational therapists fulfill their professional responsibilities. An Occupational Therapy Assistant will typically work in conjunction with a registered occupational therapist.
The COTA exam material covers four general tasks:
obtaining information and developing a client-centered intervention plan (28% of the exam)
choosing and implementing evidence-based interventions (47%)
maintaining high professional standards (20%)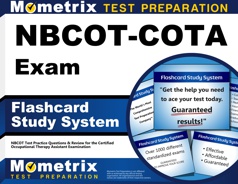 Occupational Therapy Assistant Flashcards. Proven Occupational Therapy Assistant test flashcards raise your score on the NBCOT-COTA test. Guaranteed.
Exams are scored on a scale from 300 to 600. One's score is based on the number of questions answered correctly and the relative difficulty of the exam version. There is no distinction between unanswered questions and questions answered incorrectly.
To pass the examination, candidates must achieve a score of at least 450. The official score report contains information about performance in each domain of the examination. The pass/fail determination, however, is based solely on the total score. The NBCOT recommends the COTA exam for individuals with between zero and three years of experience.
NBCOT® is a registered trademark of the National Board for Certification in Occupational Therapy, Inc., which administers the NBCOT® exam. NBCOT does not endorse and is not affiliated in any way with Mometrix or its products and services.