The Certified Occupational Therapy Assistant (COTA) and Occupational Therapist Registered (OTR) examinations are both administered by the National Board for Certification of Occupational Therapists.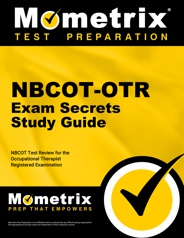 Prepare with our Occupational Therapist Study Guide and Practice Questions. Print or eBook. Guaranteed to raise your score. Get started today!
These designations are distinct from the additional OTR and COTA specialized content exams in the pediatrics, mental health, and other specialized areas.
The OTR and COTA certification exams consist of 200 multiple-choice items. The length of time allotted for the test is in the range of four hours, depending on optional break times.
The Occupational Therapist Registered (OTR) is the more difficult level of certification.
Raw scores are equated and scaled according to the peer baseline group.
The process of equating is designed to compensate for any differences of difficulty in the tests from one NBCOT administration to the next. This equating recognizes that the certification tests are constantly undergoing revisions. A passing scaled score on both tests is 450.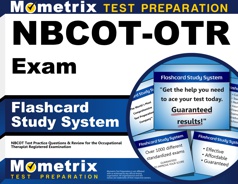 Occupational Therapist Flashcards. Proven Occupational Therapist test flashcards raise your score on the Occupational Therapist test. Guaranteed.
Since the Occupational Therapist Registered and the Occupational Therapist Assistant positions require significant experience in order to maintain certification standards, the tests for these occupations are not considered to be valid predictors of success within the field.
The OTR test, like its COTA twin, is designed to determine whether the candidate for certification meets minimum entry-level proficiency standards.
NBCOT-OTR Exam Format
Tests are administered online and are in a multiple-choice format. Test questions are of three types. Entry-level questions measure basic proficiency. Other questions focus upon areas of treatment that are frequently encountered in the OTR position. Yet a third category of question is indicative of the body of knowledge that is absolutely vital and essential to common OTR professional practice.
The OTR test is broken down into several content areas, with a predetermined number of questions on each. To begin with, the OTR candidate is required to evaluate individuals and groups for rehabilitative services, while making a determination of need that sets priorities of treatment. This element comprises 25% of the OTR exam.
The OTR candidate also must establish therapeutic intervention strategies for the target populations. Intervention planning must be focused and accurate with regard to functional goals. 41% of the OTR exam is focused in this area.
6% of the OTR exam will be questions regarding the needs of the treatment population.
The management, organization, and promotion of OTR services comprise 7% of the certification exam.