In order to become a National Certified Counselor, one must pass the National Counselor Exam (NCE) developed by the National Board for Certified Counselors (NBCC). This exam is designed to assess the skills and knowledge required to perform counseling services. It is meant to be relevant to all counselors, and not just those with a particular specialty.
The following content areas are included in the NCE: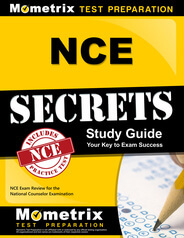 Prepare with our NCE Study Guide and Practice Questions. Print or eBook. Guaranteed to raise your score. Get started today!
human growth and development
social and cultural foundations
helping relationships
group work
career and lifestyle development
appraisal
research and program evaluation
professional orientation and ethics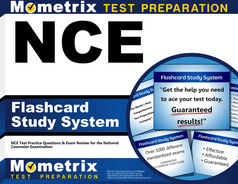 NCE Flashcards. Proven NCE test flashcards raise your score on the NCE test. Guaranteed.
The content of the NCE can also be considered from the perspective of work behavior; the following five work behaviors are assessed by the examination: fundamentals of counseling; assessment and career counseling; group counseling; programmatic and clinical intervention; and professional practice issues.
The exam consists of 200 multiple-choice questions, 40 of which are pretest questions used to develop future versions of the exam.
It impossible to tell which questions are pretest questions. Candidates are given four hours to complete the NCE. Approximately 8 weeks after the exam, the NBCC will mail exam scores to each candidate. The best possible score on the NCE is 160, while the minimum passing score is determined by a modified Angoff procedure. The NCE is administered at testing centers around the country; to register, individuals should visit the NBCC website.