The National Clinical Mental Health Counselor Examination (NCMHCE) was developed by the National Board for Certified Counselors. This exam is designed for individuals who want become certified as mental health counselors. The test measures the knowledge and skills required by an entry-level counselor.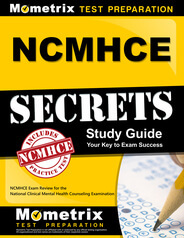 Prepare with our NCMHCE Study Guide and Practice Questions. Print or eBook. Guaranteed to raise your score. Get started today!
The NCMHCE consists of ten clinical simulations. Each of the simulations is broken down into between five and eight sections. The simulation will replicate a real-life counseling experience, in which you have to assess the patient and administer treatment.
The content of the NCMHCE is divided into three general categories: Evaluation and Assessment; Diagnosis and Treatment Planning; and Clinical Practice. The Evaluation and Assessment sections require you to spot symptoms and determine appropriate tests.
The Diagnosis and Treatment Planning sections require you to develop a treatment protocol, describe coordination with other service providers, and establish a plan for assessing treatment. The Clinical Practice sections require you to evaluate the services provided and understand related ethical and professional issues.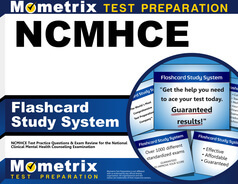 NCMHCE Flashcards. Proven NCMHCE test flashcards raise your score on the NCMHCE test. Guaranteed.
Every content section contains both information-gathering (IG) and decision-making (DM) questions: that is, questions that require you to assemble and organize the important data about a particular case, and questions that require you to choose a treatment protocol based on the information gathered.
The NCMHCE has a unique multiple-choice system. Each answer choice is weighted from +3 to -3, depending on its relative accuracy. In other words, there are multiple "correct" answers to each question, though some of the answer options address the question in a more thorough fashion than other answers.
So, you can get some credit for an answer even if another answer is more complete and accurate. In this way, the NCMHCE effectively simulates the counseling process, in which decisions must often be made with incomplete information and in less-than-ideal conditions.
NCMHCE Overview
NCMHCE FAQ
Q
How is the NCMHCE scored?
A
The NCMHCE is scored using a criterion-referenced method known as the Angoff method. This means that the minimum passing score will vary slightly for each version of the test.
Q
How much does it cost to take the NCMHCE?
A
The examination fee for the NCMHCE is $275, which is nonrefundable and nontransferable.
Q
What is NCMHCE stand for?
A
NCMHCE stands for National Clinical Mental Health Counseling Examination.
Q
What is the NCMHCE exam?
A
The NCMHCE is a required examination for the CCMHC certification and for counselor licensure in some states.
Q
Is the NCMHCE exam all multiple choice?
A
No, the NCMHCE is made entirely up of simulations made up of 10 cases which are sectioned into 5-10 parts.
Q
How long do you have to take the NCMHCE?
A
Test-takers are given 3 hours to complete the NCMHCE.
Q
How do you sign up for the NCMHCE?
A
To sign up for the NCMHCE, you must create a ProCounselor account via the NBCC website.
NCMHCE Study Guide
Explore our free NCMHCE review provided by Mometrix. Check out our premium NCMHCE study guide to take your studying to the next level. If you benefit from these materials, just click the link below! To compliment our NCMHCE book, we also offer extensive flashcards for even more NCMHCE exam prep help.
We hope you enjoy our products! Your purchase helps us make more great, free NCMHCE certification content for test-takers just like yourself.