The National Council for Therapeutic Recreation Certification examination, commonly known as the NCTRC exam, is a comprehensive assessment for men and women who want to enter this rapidly-expanding field. The organization of TR/RT content area covers TR service design and administrative tasks.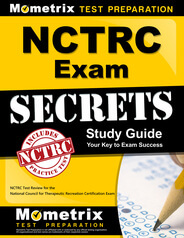 Prepare with our NCTRC Study Guide and Practice Questions. Print or eBook. Guaranteed to raise your score. Get started today!
A Certified Therapeutic Recreation Specialist (CTRS) is an individual who has demonstrated their professional competence providing recreational therapy services. Serving as a member of a health care team, CTRS professionals contribute to the effectiveness and efficiency of patient care. Successful completion of the certification exam is a requirement of credentialing.
The CTRS is accepted in all U.S. states and territories, and 16 countries. The National Council for Therapeutic Recreation Certification (NCTRC) has credentialed over 16,000 recreational therapists worldwide.
Requirements
Before you can sit for the CTRS exam, you need to prove professional eligibility. There are three paths to eligibility – one is an academic path, and the other two are equivalency paths. The academic path consists of an educational program ending in a bachelor degree, and a 14-week internship program. The equivalency paths are meant for individuals with a bachelor degree or higher, experience in recreational therapy, and specific coursework in recreational therapy.
Steps to the CTRS exam and costs
Before you can register for the CTRS exam, your professional eligibility needs to be established. Complete the application for professional eligibility online at the NCTRC website. Your application incurs a $125.00 fee and is payable in U.S. funds only.
Once you are determined to be exam qualified, you can register to sit for the CTRS exam. The exam fee is $325.00 and payable in U.S. funds. The testing periods and their registration deadlines can be found on the NCTRC website. Each testing period lasts for two weeks. Pay attention to the deadlines posted for the examination; be sure to complete both the application for professional eligibility and the exam registration before the deadline for your desired testing window.
Approval to test and registration
Your application and exam registration are processed by NCTRC. If you meet eligibility requirements, you will be determined eligible to sit for the exam, and an Authorization to Test (ATT) is sent to you. Use the ATT when you schedule your exam with Prometric testing centers. Prometric centers are located nationwide, and appointments are available Monday through Saturday during your assigned testing window. You cannot schedule your exam until you receive the ATT, and it must be scheduled at least 48 hours before your preferred testing date.
Test design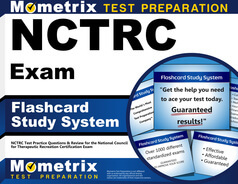 NCTRC Flashcards. Proven NCTRC test flashcards raise your score on the NCTRC test. Guaranteed.
The National Council for Therapeutic Recreation Certification examination is a three-hour, computer-delivered test consisting of 150 multiple-choice questions. You can navigate back and forth throughout the exam and annotate questions for further review. Be careful when completing your exam – you cannot go back into the test once you have exited the exam. You have a little over one minute per question. Use your time wisely so you have time to review your answers before exiting the exam.
The NCTRC consists of six content areas:
Foundational knowledge – 20%
The foundational knowledge content area is divided into three sections:
Theories and concepts including human development stages, theories of human behavior and principles of behavioral change, concepts and models of health and human services, group dynamics and leadership, legislative and regulatory guidelines and standards, and the activities that increase an individual's well-being.
Practice guidelines include models of service delivery, practice settings, standards of practice, code of ethics, and cultural competency.
Diagnostic groupings include cognitive/developmental disorders and the related impairments, physical/medical disorders and the related impairments, and psychiatric disorders and related impairments.
Assessment process – 19%
The assessment process content area is divided into two sections:
The selection and implementation of assessment including assessment instruments, inventories, questionnaires, secondary sources of assessment data, criteria used to select and develop assessments, and the implementation of selected assessments.
Assessment domains including sensory, cognitive, social, physical, affective, leisure, and functional skills.
Documentation – 18%
The documentation content category includes the development of individualized intervention plans, writing measurable goals and behavioral objectives, identifying progress and functional status, modifying intervention plans, the transition and discharge plans of individuals served, and required facility documentation.
The implementation content area examines your skill and knowledge with a selection of programs, the purpose and techniques of analysis, providing activity modifications, appropriate use of modalities or interventions, facilitation approaches, intervention techniques, risk management, and interdisciplinary approaches.
Administration of Therapeutic Recreation/Recreational Therapy service – 10%
This content area evaluates your knowledge of the operation of service plans, program evaluation and accountability, quality improvement, personnel management, payment systems, facility management, budgeting, and fiscal management.
Advancement of the profession – 7%
Topics included in this content area pertain to all aspects of the profession including professionalism, credentialing, advocacy, legislation, public relations, professional associations and organizations, research, and collaboration.
On the day of the exam
After you schedule your test with a Prometric Test Center, an email confirmation letter states your test date, location, and time. Plan to arrive at your appointed testing center 30 minutes before your exam to complete the check-in procedures. Leave your personal belongings secured in your car or at home, and have one form of valid, government-issued identification that has the same name you used to register for the exam.
Once you have checked in, you are directed to your testing station and provided with a dry erase board, and two dry erase pens. After your exam, return the board and pens to the test proctor, and receive an unofficial pass or fail report. Your official score report is emailed to you by Prometric.
Scoring
The CTRS exam is scored on a scale of 20 to 95. The minimum passing score is 55. If you did not pass the exam, your score report includes information for you to focus your studies on. If you passed the exam, your official score report indicates only that you passed.
Preparation
Obtaining the NCTRC credential proves to employers and the public that you have the educational, experiential, and professional requirements necessary to provide quality recreational therapy services. Use Mometrix Test Preparation's study guide and flashcards for preparation and pass your exam on your first attempt.