The National Council for Therapeutic Recreation Certification examination, commonly known as the NCTRC exam, is a comprehensive assessment for men and women who want to enter this rapidly-expanding field. The organization of TR/RT content area covers TR service design and administrative tasks.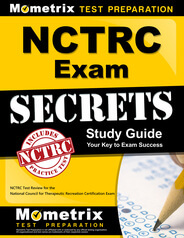 Prepare with our NCTRC Study Guide and Practice Questions. Print or eBook. Guaranteed to raise your score. Get started today!
With respect to TR service design, the NCTRC exam covers:
program design relative to population served
types of service delivery systems
role and function of other health and human service professions and of interdisciplinary approaches
documentation procedures for program accountability and payment for services
methods for interpretation of progress notes, observations, and assessment results
As for administrative tasks, the exam covers: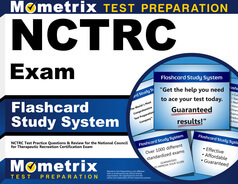 NCTRC Flashcards. Proven NCTRC test flashcards raise your score on the NCTRC test. Guaranteed.
quality improvement guidelines and techniques
components of agency or TR/RT service plan of operation
personnel, intern, and volunteer supervision and management
payment system
facility and equipment management
budgeting and fiscal responsibility
In the advancement of the profession section, the NCTRC exam covers the historical development of TR/RT, accreditation standards and regulations, professional behavior and professional development, and the requirements for TR/RT credentialing. It also includes discussion of advocacy for persons served; legislation and regulations; professional standards and ethical guidelines; and public relations, promotion, and marketing.
In addition, this section includes discussion of methods, resources, and references for maintaining and upgrading professional competencies; professional associations and organizations; partnership between higher education and direct service providers to provide internships and to produce, understand, and interpret research; and the value of continuing education and in-service training.
The NCTRC exam was developed by the National Council for Therapeutic Recreation Certification.
NCTRC Practice Exam
NCTRC Study Guide
Explore our free NCTRC review provided by Mometrix. Check out our premium NCTRC exam study guide to take your studying to the next level. If you benefit from these materials, just click the link below! To compliment our NCTRC book, we also offer extensive flashcards for even more NCTRC exam prep help.
We hope you enjoy our products! Your purchase helps us make more great, free NCTRC certification content for test-takers just like yourself.