The Neonatal Intensive Care Nurse exam (NICNE) is a standardized test provided by the National Certification Corporation (NCC), intended to qualify those with the aptitude and knowledge necessary to practice as neonatal nurses in hospitals' intensive care units.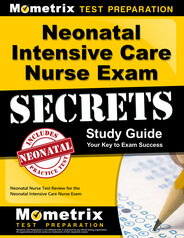 Prepare with our Neonatal Intensive Care Nurse Study Guide and Practice Questions. Print or eBook. Guaranteed to raise your score. Get started today!
Certification through the NICNE can be a critical step in professional development and is meant to validate a candidate's expertise and provide recognition of an ongoing commitment to their education.
As neonatal intensive care nursing is one of the most demanding and critical professions in the medical field, certification through the NICNE can be a critical step in securing and holding onto a practicing position.
How Can I Take the NICNE?
The NICNE is only available to those who qualify with the proper educational and practicing experience. To qualify for the NICNE, you must:
Possess current nursing licensure in the U.S. or Canada
Have at least two years of experience with at least 2,000 hours of practice time as a registered nurse in the U.S. or Canada in inpatient obstetric nursing, neonatal intensive care nursing, low-risk neonatal nursing or maternal newborn nursing
A recorded employment history with direct clinical practice, education, research or administration experience
Documented employment in one of the above designated exam specialty areas within the last two years
With those qualifications met, prospective participants in the NICNE will be able to register for the exam through the NCC website. They will have to provide their basic personal information, confirm eligibility, submit licensure and employment information and complete the application.
Prospective participants will have to pay a $50 application fee, which is included in a $325 fee for computer exams and a $275 Professional Education Center exams.
What Test Center Regulations Does the Exam for Neonatal Intensive Care Nursing Have?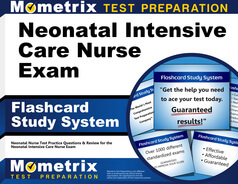 Neonatal Intensive Care Nurse Flashcards. Proven Neonatal Intensive Care Nurse test flashcards raise your score on the Neonatal Intensive Care Nurse test. Guaranteed.
Participants in the NICNE have three options for taking the exam. They can take it at a computer testing site, at a Professional Education Center offering or as an Institutional Certification Program test given at an employer's site.
For exams at computer testing sites, candidates will have to present two forms of current identification with signatures, at least one of which bears a photograph. Participants are permitted to bring non-programmable, basic calculators and wallets and keys. They are not permitted to bring personal items like cellphones, books, papers or purses or briefcases.
What Specific Content Appears on the Neonatal Intensive Care Exam for Nursing Exam?
The content on the NICNE is developed by a group of registered nurses and other designated experts. Participants are given three hours total to complete the exam. The exam consists of 175 questions, 150 of which are scored. Every question has three alternative answers, which are alphabetized. Computer-based tests are delivered in random orders.
There are five major content categories, each of which contains different subcategories. Each major category and an example of the subcategories they cover is as follows:
General Assessment (9% of full exam)

Maternal risk factors and birth history
Physical and gestational age assessment
General Management (44% of full exam)

Resuscitation and stabilization
Fluids and electrolytes and glucose homeostasis 
Nutrition and feeding
Oxygenation, ventilation and acid base homeostasis
Thermoregulation and integumentary
Pharmacology, pharmacokinetics and pharmacodynamics
Neuroprotective and neurodevelopmental care
Infection and immunology
Assess & Manage Pathophysiologic States (39% of full exam)

Cardiovascular
Respiratory
Gastrointestinal and gastrourinate
Hematopoietic
Neurological and neuromuscular states
Genetic, metabolic and endocrine
Head, eye, ear nose throat
Psychosocial Support (5% of full exam)

Discharge management
Family centered care
Grieving processes
Palliative Care
Mental health
Professional Issues (3% of full exam)

Patient safety
Legal and ethical issues
Evidence-based practices
Quality improvement
How Can I Get a Great Score on the NICN Exam?
Because the NICNE is designed for professionals in the field who have already gained work experience and professional knowledge, it is recommended that those preparing for the test leverage a study guide to determine what areas of expertise they already possess and what areas they need to focus on.
Secondly, in order to refine working knowledge into applicable recall for a standardized exam like the NICNE, it is recommended that prospective participants leverage a set of study flashcards as they review.
Mometrix Test Preparation offers both a study guide and set of flashcards custom made for this exam.
Online RNC-NIC Prep Course
If you want to be fully prepared, Mometrix offers an online Neonatal Intensive Care Nurse Prep Course. The course is designed to provide you with any and every resource you might want while studying. The RNC-NIC Course includes:
Review Lessons Covering All the Topics
700+ RNC-NIC Practice Questions
More than 350 Electronic Flashcards
Money-back Guarantee
Free Mobile Access
and More!
The RNC-NIC Prep Course is designed to help any learner get everything they need to prepare for their RNC-NIC exam; click below to check it out.