Educators who want to teach elementary education in Washington must take the National Evaluation Series (NES) Elementary Education (Subtest I and Subtest II) exam. It's the teacher certification exam for the state. The exam assesses an educator's ability in several categories, including reading, math, and science. What's on the test? What are the best study materials to help you prepare? This guide will answer those questions for you.
What is the NES Elementary Education (Subtest I and Subtest II) exam format?
The exam contains two subtests, Subtest I and Subtest II.
How many questions are on the exam?
Each subtest contains 75, computer-based questions. The questions are all multiple-choice.
What is the exam's passing score?
Candidates must achieve a score of at least 220 on each subtest to pass the test.
How much time do I have to complete the subtests?
Candidates must complete Subtest I in 1 hour and 30 minutes and Subtest II in 1 hour and 45 minutes.
What is the fee to take the test?
It is $50 to take one subtest or $95 to take both.
What's on the NES Elementary Education (Subtest I and Subtest II) exam?
Here are the test components.
Subtest I contains two categories.

Reading and English Language Arts accounts for 62 percent of the test score. This section assesses a teacher's knowledge of language development, effective listening skills, and phonological and phonemic awareness skills; word recognition development; spelling development; reading comprehension skills evaluation; how vocabulary development impacts reading; and more.
Social Studies accounts for 38 percent of the test score. Candidates will be tested on their understanding on how government functions; the different branches of government (executive, legislative, judicial); significant developments in U.S. and world history in areas that include politics, science, and technology; and the difference in historical facts and interpretations.

Subtest II contains three categories:

Mathematics questions account for half (50 percent) of the test score in this section. The candidate will show an understanding of number properties and systems; problem- solving ability using fractions, decimals, ratios and more; algebraic and geometric concepts; measurement conversion using the metric system; and statistical measures, like mean and median, to analyze data.
Science accounts for 38 percent of the test score. Topics in this section include understanding plant, animal, and other living organisms' life processes; solar system objects; light and sound; Earth's geologic system; how science changes over time; and life sciences, physical sciences, Earth and space sciences, and their connections and unifying themes.
The Arts, Health and Fitness accounts for 12 percent of the test score. Candidates can expect to be tested on themes that include visual arts, music, dance and drama basic terms; the human body and its basic structures and functions; and strategies to maintain physical, mental, and emotional health.
Where can I take the exam?
An independent test service, which has offices throughout Washington and the United States, delivers the test. Please check the exam information website for the location nearest to you.
What time should I arrive at the test center on test day?
Please make sure to arrive at the test center before your test time. Any candidate more than 15 minutes late might not be allowed to take the exam and will not receive a refund of any fees.
Am I allowed to bring personal items into the testing room?
All personal items are strictly prohibited and must be placed in a locker at the test center. That includes mobile phones, electronic devices, wallets, purses, hats, and head coverings. Please consult the test center rules for a more detailed list of prohibited items.
Should I bring identification to the test center?
Yes. Candidates should bring one piece of government-issued identification. A passport, driver's license, and state identification are all acceptable forms. The ID must contain a photo and signature.
When will I receive my test results?
Candidates will receive their test results when the exam is complete. Score reports will be available within two weeks of testing.
I need an excellent study guide to help me prepare. Which one should I buy?
Mometrix has a study guide perfect for those preparing to take the National Evaluation Series Elementary Education (Subtest I and Subtest II) tests. Our guide contains practice test questions, a study plan, and tips on tackling the toughest problems. If you're worried about finding time to study, we have another study tool that can help. Our portable flashcards make it easy to study wherever you are. These are excellent study materials to help you prepare.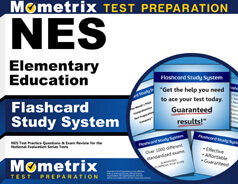 NES Elementary Education Flashcards. Proven NES Elementary Education test flashcards raise your score on the NES Elementary Education test. Guaranteed.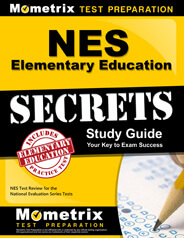 Prepare with our NES Elementary Education Study Guide and Practice Questions. Print or eBook. Guaranteed to raise your score. Get started today!