A newborn who needs immediate emergency medical care will be cared for by trained nursing professionals. These Neonatal Nurse Practitioners work in neonatal intensive care units and help ensure these babies receive the treatment they need. But to work in this field, these professionals must pass the Neonatal Nurse Practitioner Exam. The exam, administered by the National Certification Corporation (NCC), covers four important areas as outlined below. We also have a recommendation on outstanding study materials that can help you prepare for this difficult test.
What are the eligibility requirements to take the Neonatal Nurse Practitioner Exam?
Candidates must have a current nursing license and graduated from an NCC accredited nurse practitioner program.  Candidates must also take the test within eight years of graduation.
What's the fee for taking the exam?
There is a $325 fee, and that includes the testing fee ($275) and a non-refundable application fee ($50).
What's the deadline for submitting the exam application?
Candidates can apply at any time. It takes roughly two weeks to approve an application.
Where can I take the exam?
The National Certification Corporation utilizes a third-party test center to deliver the exam to candidates. There are more than 100 test centers located across the United States.
When can I take the Neonatal Nurse Practitioner Exam?
Candidates can take the exam on Monday through Saturday at 9:30 a.m. or 1 p.m. The exams are given by appointment.
How long do I have to complete the exam?
Candidates have three hours to complete the test.
What's on the test?
The exam consists of four content areas. They are:
General Assessment covers areas that include assessing the fetus; laboratory tests such as biochemical and endocrine; diagnostic procedures such as MRI and CT Scan; and equipment knowledge such as cardiopulmonary monitors.
General Management covers issues that include nutrition and dietary supplementation and nutritional requirements; pharmacology principals; and drug therapies such as GI drugs, inhalants, and steroids
The Disease Process is the largest area of the test, with about 55 percent of the test questions. Topics covered include cardiac defects, such as congestive heart failure, hypertension, and shock; pulmonary issues such as pneumonia, diaphragmatic hernia, and apnea of prematurity; gastrointestinal issues such as abdominal wall defects, obstruction, and perforations; musculoskeletal issues that include clubfoot, musculoskeletal birth injuries, and nerve damage.
Professional Issues covers ethical, professional, and legal issues that include staffing issues, legal liability, and consent; the safety of patients; and evidence-based practice.
How is the test graded?
The exam is graded pass/fail.
What if I fail the Neonatal Nurse Practitioner Exam?
Candidates may retake the exam but must wait 90 days to reapply. While there is no limit to the total number of times a candidate can retake the exam, candidates may only take the exam twice in any calendar year.
When will I receive my test results?
Candidates will receive a preliminary test score after completing the exam. The NCC will mail the official results within 21 days of the test date.
It's test day. When should I arrive at the test center?
Please arrive at least 15 minutes prior to your test time.  Any candidate who arrives more than 15 minutes late will not be allowed to take the exam and will not receive a refund of any fees.
Do I need to bring identification to the test center?
Yes. Candidates must bring two forms of identification. One form must have a photo, and both must contain your current name and signature. A driver's license, state identification card, and a passport are all acceptable forms of ID. 
Am I allowed to bring my own calculator when I take the Neonatal Nurse Practitioner Exam?
Yes. Basic calculators that are non-programmable, battery-operated, and noiseless are allowed.
Great. Does that mean I can bring other personal items into the test room?
Generally, no. Candidates can bring in a sweater or jacket. Otherwise, personal items are not allowed in the test room. That includes electronic devices like mobile phones and handheld computers, personal valuables, and dictionaries. All personal items must be stored in a locker.
This sounds like a complicated test, and I need the best study guide I can buy. What do you suggest?
We recommend the Mometrix study materials. Our study guide includes general test strategies, a comprehensive topic review, and an online pathology and pharmacology review.  If you're taking this test, you're already a busy professional, which means finding time to study can be tough. Our flashcards can help you. They're the perfect portable study tool that can help you prepare for the Neonatal Nurse Practitioner Exam.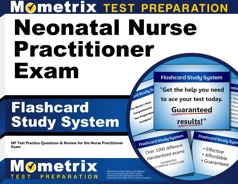 Neonatal Nurse Practitioner Flashcards. Proven Neonatal Nurse Practitioner test flashcards raise your score on the Neonatal Nurse Practitioner test. Guaranteed.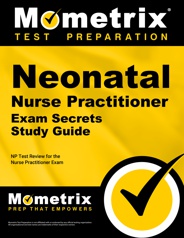 Prepare with our Neonatal Nurse Practitioner Study Guide and Practice Questions. Print or eBook. Guaranteed to raise your score. Get started today!