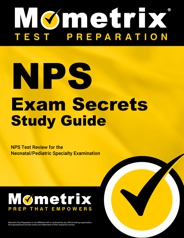 Prepare with our NPS Study Guide. Print or eBook. Guaranteed to raise your score. Get started today!
Sample Scenarios
1. You have been called to examine a 2-hour-old newborn because the neonate is experiencing tachypnea with respirations over 60 beats per minute. The infant also has slight substernal retractions, and in the last few minutes, nasal flaring is apparent. Discuss what tests the physician might want to order on this neonate and what you can anticipate as the plan of care.
2. Describe the plan of care for a 4-month-old infant presenting to the emergency room in mild respiratory distress.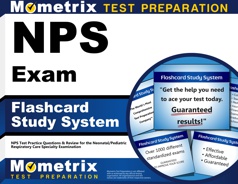 NPS Flashcards. Proven NPS test flashcards raise your score on the NPS test. Guaranteed.
3. You are making rounds in the NICU. The infant you are getting ready to suction desats and the alarm goes off. What steps do you follow?
Responses
---
1. The first thing to anticipate is a full head-to-toe examination and assessment of vital signs including temperature and oximetry. While keeping the infant warm by placing it under a warmer, anticipate laboratory work to include an ABG analysis or a capillary blood gas, a blood glucose test, and a complete blood count (CBC) to rule out anemia or sepsis. Depending on the blood gas analysis and the oximetry results, anticipate using an oxygen hood to administer oxygen if necessary. You could anticipate giving an oral feeding or IV fluids in the case of severe hypoglycemia. Always be prepared for emergency intubation if needed. Treatment can vary from observation to admission to a NICU.
2. The infant's vital signs should be taken, including temperature and oximetry. If oximetry is less than 95%, humidified oxygen with an infant nasal cannula could be started in the emergency room. A chest x-ray should be done to look for pneumonia, RSV, bronchiolitis, or other lung pathology. A nasal washing for RSV and a complete blood count should also be done. The infant can be admitted for treatment and observation if respiratory distress is noted in an infant with nasal flaring or retractions or low oximetry. Antibiotics should be considered as well as nebulizer treatments to open airways and promote lung health. Intravenous therapy for hydration should also be considered.
3. In spite of the alarms, first do a visual assessment. Look at the infant and assess the infant airway. If the infant is intubated, consider suctioning the ETT. Reposition, check the oximetry probe, look for skin color, heart rate, respiratory rate, and general signs of distress. Listen to the lungs. Ask: did the infant just eat, are the electrodes intact, is the infant showing nasal flaring, grunting, or retractions? Call for assistance immediately if the airway is compromised and intubation is needed. Learn to make a quick assessment, perform an action, assess again for response, and act again as needed. These steps can be done very quickly and efficiently with skill and practice.
Online RNC-NIC Prep Course
If you want to be fully prepared, Mometrix offers an online Neonatal Intensive Care Nurse Prep Course. The course is designed to provide you with any and every resource you might want while studying. The RNC-NIC Course includes:
Review Lessons Covering All the Topics
500+ RNC-NIC Practice Questions
More than 500 Electronic Flashcards
Money-back Guarantee
Free Mobile Access
and More!
The RNC-NIC Prep Course is designed to help any learner get everything they need to prepare for their RNC-NIC exam; click below to check it out.