The National Physical Therapy Examination (NPTE) is designed to assess basic entry-level competence following graduation from a physical therapy program. The purpose of the NPTE is twofold: to ensure the field of physical therapists (PTs) and physical therapist assistants (PTAs) is only comprised of qualified professionals, and to help various regulatory authorities evaluate candidates using standards that can be used across jurisdictions.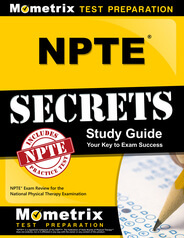 Prepare with our NPTE Study Guide and Practice Questions. Print or eBook. Guaranteed to raise your score. Get started today!
The NPTE is offered four times a year for PTs and PTAs (dates are different for the two different exams) at Prometric testing centers across the country. The actual dates vary from year to year and are generally announced in the summer prior to their being offered.
Taking the exam is important but it is not the only requirement to obtain licensure as a PT or PTA. The requirements for licensure vary from jurisdiction to jurisdiction, so candidates are required to ensure that they are fully compliant with their particular jurisdiction. Some states also require that a jurisprudence exam is completed before taking the NPTE. The purpose of the jurisprudence exam is to test knowledge of a specific state's laws and rules.
After either passing the jurisdiction exam or if one is not required for a person's particular state, test takers must complete all application materials to take the NPTE from the licensing authority of their state. If special testing accommodations are required to complete the NPTE, a request must be made at the same time as registration. All Prometric testing centers are equipped to accommodate test takers who require testing accommodations.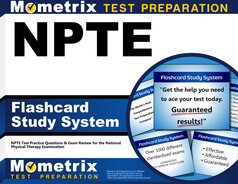 NPTE Flashcards. Proven NPTE test flashcards raise your score on the NPTE test. Guaranteed.
Once all application materials are completed, the test taker's specific licensing authority will notify the Federation of State Boards of Physical Therapy (FSBPT) of their eligibility to take the NPTE. An Authorization to Test (ATT) letter will be sent which will include instructions on how to schedule a time to take the NPTE. Scheduling an appointment is the responsibility of the test taker and can be done via the Prometric website.
The exam must be taken on the date indicated on the ATT letter. If the exam is not taken within this period, eligibility will be revoked and the registration process must be completed again from the start to regain eligibility. Registration to take the test must be completed approximately one-and-a-half months before the testing date or eligibility will be revoked.
NPTE Practice Test
NPTE Self-Assessment Module
The PT examination consists of 250 questions and the PTA examination consists of 200 questions. All questions are in a multiple choice format. The content for the two examinations is slightly different and test takers are encouraged to visit the FSBPT website to learn about the content for their specific exam.
Scores are reported to jurisdictions approximately five business days following the date of the exam. After approximately 10 business days, free score reports will be made available to the test taker at the FSBPT website where they will remain viewable for 30 days. After 30 days there is a fee to view the Individual Score Report.
All NPTE test takers will be given a scaled score that ranges from 200 to 800. Scaled scores are used because not all versions of the exam are considered to have the same degree of difficulty. A passing scaled score for the NPTE is 600, as every single licensing authority that uses the NPTE has adopted the same passing standard. The actual number of questions that need to be answered correctly in order to achieve a scaled score of 600 differs slightly from test to test but there should not be more than a variation of one or two correct questions.
Those who need to retake the exam will need to check with their licensing authority as to whether they have any specific requirements on how often the NPTE can be retaken. The FSBPT allows the NPTE to be taken no more than three times in any given 12-month period. Those who wish to take the NPTE again must again register with the licensing authority and follow the same process that was used to take the NPTE the first time.
The FSBPT website offers a variety of resources to be used for preparing to take the NPTE. One resource that is particularly helpful is an online practice exam that is timed and that simulates the overall test-taking experience. For $90, test takers will be given access to two 200-question PT practice exams or two 150-question PTA exams. In addition to providing correct answers, explanations and rationales are given for every correct answer.
Also available on the FSBPT website after the NPTE has been taken is a Performance Feedback Report, designed for those who did not pass the exam. For $90, test takers can receive details about the exam score, including details broken out by each content area. On the report, scaled scores will be given for each individual section. In addition, a raw score and percentage of correct questions needed to get a scaled score of 600 in each individual section will also be provided.
Those who wish to have their exam reviewed are able to purchase an Examination Score Verification service for $150. The FSBPT cautions test takers that, because all examinations are scored electronically and with a high degree of accuracy, there is a very small chance that score verification will change the original score.
NPTE Exam
Explore our free NPTE review provided by Mometrix. Check out our premium NPTE study guide to take your studying to the next level. If you benefit from these materials, just click the link below! To compliment our NPTE book, we also offer extensive NPTE flashcards for even more NPTE test prep help. We hope you enjoy our products! Your purchase helps us make more great, free NPTE certification content for test-takers just like yourself.