Graduating from school is just the first step in becoming a physical therapist. Next, candidates must take the National Physical Therapy (NPTE) exam. Candidates must pass this tough test to become a licensed physical therapist. This guide provides an overview of what's on the exam and details on an outstanding guide that can help you study and prepare for the test.
Who administers the National Physical Therapy exam?
Federation of State Boards of Physical Therapy (FSBPT) administers the exam.
Many questions are on the exam?
There are 250 questions on the test.
How long will I be at the test center?
Candidates should expect to be at the test center at least 5 hours and 30 minutes. That includes five hours to take the test and the additional time for a pre-exam tutorial and a break.
When can I take the exam?
Candidates can take the exam in January, April, July, and October. However, there are various deadlines, including registration and payment and reserving a seat to take the exam. It's best to consult the NPTE website.
What are the exam's eligibility requirements?
The requirements are two-fold. First, your state will have a list of requirements you must meet in order to sit for the National Physical Therapy Exam. For example, candidates must have graduated from an accredited Physical Therapy or Physical Therapy Assistant program. Then, the FBSPT will have its own requirements. Please consult the FBSPT website for specifics.
What's on the National Physical Therapy exam?
The exam tests candidates on nine body systems and five non-system categories, as listed below.
Body Systems: Except where noted, each area tests candidates in physical therapy examination; foundations for evaluation, differential diagnosis, and prognosis; and interventions.    
Cardiovascular & Pulmonary Systems includes carrying out a plan of care for diseases/conditions.
Musculoskeletal System includes pharmacological management.
Neuromuscular & Nervous Systems includes physical therapy intervention.
Integumentary Systems includes anatomy and physiology issues.
Metabolic & Endocrine Systems does not contain a physical therapy exam. It includes systems complications from physical therapy.
Gastrointestinal Systems includes adverse effects as the result of physical therapy.
Genitourinary System includes nonpharmacological and pharmacological management.
Lymphatic System includes posture management like movement and range of motion.
System Interactions does not contain a physical therapy exam. It includes how pain impacts patient management.
Non-System: These sections includes the ability to evaluate and make assessments; emergency preparedness; infection control procedures; patient and client rights; and how to interpret research. The test sections are:
Equipment, devices, and technologies.
Therapeutic Modalities.
Safety & Protection.
Professional Responsibilities.
Research & Evidence-based practice.
Where can I take the test?
The FSBPT uses a private company to deliver the test. There are test centers across the country. You can search for one when you register for the exam.
What is the fee to take the exam?
The total test fee of $485 covers the NPTE fee of $400 and the test center's $85 fee. There may also be additional state fees
When should I arrive at the test center?
Candidates should arrive a minimum of 30 minutes prior to their scheduled testing time.
What identification will I need to show on test day?
Candidates will need to show two forms of identification. The first must be a piece of government-issued ID, like a passport or driver's license. The second piece of ID must contain your name and signature. Please note that a social security card will not be accepted as a form of ID. Candidates will also be fingerprinted and have their photo taken.
What am I allowed to bring into the testing room?
Candidates may bring in their identification and a locker key. All other items must be placed in a locker at the test center.
How are the National Physical Therapy exam test scores reported?
The Federation of State Boards of Physical Therapy will send the score reports to your jurisdiction about five days after you've completed the exam, Candidates can access a free score report via their online account 10 days after the exam.
What is the exam's passing score?
Candidates must receive a minimum score of 600 to pass. The FSBPT uses a scaled-score method.
What study materials will help me best prepare for the National Physical Therapy exam?
The study materials from Mometrix are the best you can get. Our study guide helps you prepare with a comprehensive review of dozens of topics including issues that affect the heart, disabilities like cerebral palsy, prostheses and so much more. It's not uncommon to be strapped for time. That's where our flashcards, the perfect portable study tool, come in.  You can take them anywhere you go and study even if you have just a few minutes. These materials are the best for helping you prepare for this challenging exam.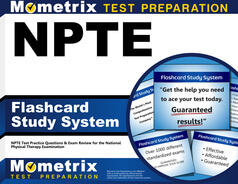 NPTE Flashcards. Proven NPTE test flashcards raise your score on the NPTE test. Guaranteed.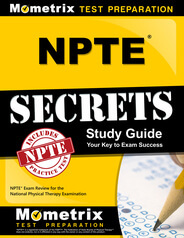 Prepare with our NPTE Study Guide and Practice Questions. Print or eBook. Guaranteed to raise your score. Get started today!
NPTE Self-Assessment Module