Certified Nurse Educators play an important role in the process of educating aspiring nurses. Relying on hands-on experience and expertise, academic nurse educators prepare curriculum, teach lectures, engage in lab and clinical work, and inspire nursing students to provide the best patient care possible.

Prepare with our Nurse Educator Study Guide and Practice Questions. Print or eBook. Guaranteed to raise your score. Get started today!
Becoming a Certified Nurse Educator means you have taken the next step in your career and want to strengthen your skills and knowledge in the pursuit of excellence. Becoming a Certified Nurse Educator, or CNE, demonstrates your professionalism, highlights your education and expertise, and positions you to serve as a role model and leader.
CNE certification distinguishes academic nursing education as an advanced area of practice within the professional nursing field, promotes excellence, and allows academic nurse educators to demonstrate their knowledge, skills, and abilities. By seeking certification as a nurse educator, you contribute to your own professional development, as well as the professional development of other nurses.
Ultimately, CNE certification strengthens educators, nursing students, and the core competencies of nursing education.
Eligibility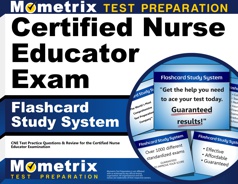 Nurse Educator Flashcards. Proven Nurse Educator test flashcards raise your score on the Nurse Educator test. Guaranteed.
Before taking the CNE examination, you will want to ensure you meet the eligibility requirements set forth by the National League for Nursing, or NLN. If becoming a Certified Nurse Educator is your goal, it is likely you are already well on your way toward meeting the eligibility criteria, if you have not already done so.
There are two eligibility options for the exam. For both options, the first step is to ensure you have active, unencumbered, registered nurse licensure in the country in which you live and work. This means your licensure must be current, active, and not limited by any type of disciplinary procedure, reprimand, censure, or other related issue. Because the standards for CNE certification are high, none of these criteria can be waived.
For the first eligibility option, called Option A, you must possess a master's degree or doctoral degree in nursing with a nursing education emphasis; a master's degree or doctoral degree in nursing and post-graduate certificate in nursing education; or a master's degree or doctoral degree in nursing with nine or more credit hours of graduate-level courses. These courses can be in curriculum development, evaluation, instructional design, adult learning, teaching, technology, or other related areas.
For the second eligibility option, called Option B, you must possess a master's degree or doctoral degree in nursing with a major or emphasis in something other than nursing education, along with two or more years of employment in a nursing program in an educational institution, occurring within the past five years.
Exam Content and Structure
Any exam can seem daunting, so understanding the structure of the exam and weight of each section can help you feel more prepared and comfortable on exam day. The NLN provides an official blueprint of the exam on their website.
The key areas of competency are:
Facilitation of learning
Facilitation of learner development and socialization
Use of assessment and evaluation strategies
Participation in curriculum design and evaluation of program outcomes
Pursuit of systematic self-evaluation and improvement in the academic nurse educator role
Engagement in scholarship, service, and leadership
Nurse Educator Exam Study Guide with Practice Questions
The first section of the exam is designed to measure your facilitation of learning. This means you will be tested on your knowledge of teaching strategies, educational theory, evidence-based practices, and other related areas. The weight of this section is 22%, so it is important to ensure you can demonstrate proficiency in each area.
The second section of the exam is designed to assess your ability to facilitate students' development and socialization. This section is weighted at 15% and includes discussions of learning styles and needs, cultural and economic diversity, previous nursing education, and constructive peer and self-evaluation.
The third section of the exam is weighted at 19% and is designed to examine your ability to use assessment and evaluation strategies. This means you will be focusing on nursing program standards and policies, such as admission, progression, and graduation. You will need to demonstrate your ability to advise others with regard to evaluation data and criteria.
The fourth section of the exam, weighted at 17%, is designed to evaluate your participation in curriculum design and program outcomes. This section will explore your ability to select appropriate learning activities, clinical experiences, and evaluation strategies.
The fifth section is weighted at 12% and is designed to examine the role of systematic self-evaluation in the nurse educator role. You must demonstrate your commitment to lifelong learning, as well as your engagement in activities that promote your leadership role, including membership in professional organizations.
The sixth section is weighted at 15%, which makes it the second-highest weight in the exam. This section examines your engagement in scholarship, service, and leadership by looking at your role as a change agent and leader. This section will discuss your participation in efforts to address health care and educational needs institutionally, locally, and regionally.
Test Preparation
One of the best means of ensuring you do well on your Certified Nurse Educator exam is to prepare. In addition to the test blueprint you can find on the NLN website, Mometrix Test Preparation offers a comprehensive Certified Nurse Educator Exam guide: Certified Nurse Educator Exam Secrets. This guide is unlike any other in that you get actual CNE test questions that help measure your foundation of knowledge and skills.
This guide was written by exam experts who understand firsthand how to successfully beat the CNE exam and get the best score you can get. The Mometrix test researchers have discovered the secret keys of the exam and are able to impart exactly how simple it can be to reduce your stress and pass the CNE. This guide was designed to teach you the test, not the material. This makes a difference!
You know the material; now you just need to understand the exam itself. With the Certified Nurse Educator Exam Secrets guide, you are that much closer to becoming a Certified Nurse Educator.