The Nursing Professional Development Exam is designed to measure a candidate's competency in all the knowledge and skills essential to a career as a registered nurse. This is an additional board certification that you can add to your existing RN license. As such, it is intended for people who are already educated, trained, and have experience working in their field.
How Do I Register for the Nursing Professional Development Exam?
The first step to registering for the exam is establishing your eligibility. To do that, you will need to fill out an application and attach documentation that verifies you meet the following eligibility criteria:
Hold a BA or higher in nursing.
Hold a current and active RN license from a state or territory in the United States (or a recognized equivalent from another country).
Have at least two years of full time work experience as an RN.
Have at least 4,000 hours of clinical practice in nursing professional development.
Have at least 30 hours of continuing education in nursing professional development.
After your application and documents have been reviewed and approved, you will be able to register and schedule your appointment for your preferred date and location. The test is offered year round at testing centers across the country so you have a lot of flexibility to choose the most convenient time and location for you. However, once you have been approved to test, you will have to take the test within 90 days of the date of approval.
What Should I Expect on Test Day?
When you arrive at the testing center, you will need to present a valid, government-issued photo ID. Accepted forms of ID include a driver's license, passport, state ID, or US military ID. You don't need to bring anything else with you beyond this ID.  Moreover, personal items will not be permitted in the exam room. Most testing centers will have lockers available to store your personal items but you can save time and stress by just leaving your things at home or in the car.
What Material Is Included in the Nursing Professional Development Exam?
The exam will cover seven domains of professional nursing practice. All questions will be designed to measure real on the job competencies and skills that you need to be a successful RN. Here is a short overview of each domain:
Education – 44 scored questions

Theories, models, and principles
Educational design and delivery
Continuing education

Leadership – 22 scored questions

Leadership principles, concepts, and structures
Professional development

Communication – 19 scored questions

Communication methods and presentation skills
Conflict management, negotiation and collaboration

Ethical/Legal Issues – 30 scored questions

Professional standards, certification, and credentialing
Risk management
Regulations, accreditation, and boundaries

Practice and Process Improvement – 13 scored questions

Evidence based practice and research
Process improvement

Technology – 11 scored questions

Information systems and management
Technology tools and strategies

Program and Project Management – 11 scored questions

Program and project management tools and processes
Evaluation
Resource management
What Is the Minimum Score Needed to Pass?
You will not receive a specific score for this exam. Rather, your results will simply state "pass" or "fail." If you fail, you will also get a report with more information about how you performed in each content area. This information also won't include exact scores but instead will designate each domain with either "low," "medium," or "high."
What Is the Best Way to Prepare for the Nursing Professional Development Exam?
While this exam is competency based and intended for people who already have a lot of experience under their belt, you will still benefit from spending a few weeks preparing for this exam. It is very challenging and with the lack of information about the exact score you need to target, you won't be able to tell from a diagnostic test whether you are already prepared to pass the exam or not.
With that in mind, the best way to study for this test is to use the Mometrix Study Guide and Mometrix Flashcards. These tools will help you refresh your memory, improve your speed of recall, and prepare you with proven test-taking strategies that are guaranteed to help you perform your absolute best.
The guide provides a complete overview of all the important material that you will be tested on in this exam. Once you've worked through the guide, you can use the flashcards to further review that material as well as quiz yourself on these concepts. The flashcards are also a great way to study on the go. If you're struggling to make time in your busy schedule for studying, bring these flashcards with you and pull them out whenever you have a couple of minutes to spare.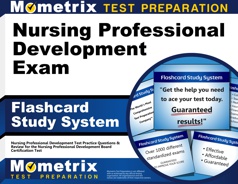 Nursing Professional Development Flashcards. Proven Nursing Professional Development test flashcards raise your score on the Nursing Professional Development test. Guaranteed.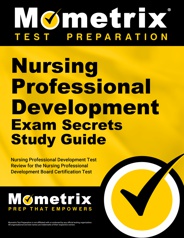 Nursing Professional Development Exam Study Guide and Practice Questions. Print or eBook. Guaranteed to raise your score. Get started today!