The Nursing Case Management certification indicates a higher level of specialization in the field of case management to help facilitate patient care in an effective manner. Nursing Case Managers work closely with patients and the healthcare team in order to expedite and ensure efficient care of the patient. Nursing Case Managers are employed in hospitals, federal and state institutions, and short and long-term care facilities.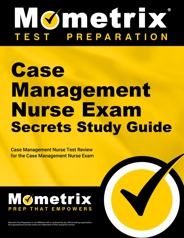 Case Management Nurse Exam Study Guide and Practice Questions. Print or eBook. Guaranteed to raise your score. Get started today!
In order to take the Nursing Case Management exam, the applicant must be licensed Registered Nurse who has worked full-time as an RN for at least 2 years. At least 2,000 hours of employment should have been completed in the field of Case Management Nursing within the last 3 years, as well as a minimum of 30 continuing education hours in case management within the same time frame.
The Nursing Case Management exam is available to RNs throughout the year at various testing sites across the United States. The fee to take the exam is $295 for American Nurses Association (ANA) members and $395 for non-members.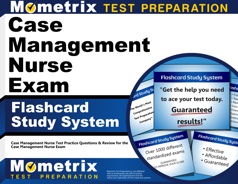 Case Management Nurse Flashcards. Proven Case Management Nurse test flashcards raise your score on the Case Management Nurse test. Guaranteed.
The exam consists of 150 questions of which 25 of the questions are used for pre-testing purposes only for possible inclusion on future exams. 20% of the exam focuses on professional foundation, 30% on care coordination, 30% on quality management, and 20% on health promotion.
The Nursing Case Management certification is valid for 5 years. At the end of that time period, the licensed RN must have completed at least 1,000 hours of employment as a Nursing Case Manager. In addition, at least 75 continuing education hours should have been completed or other educational activities should have been completed as outlined by the American Nurses Credentialing Center.
The fee for renewal is $250 for ANA members and $350 for non-members as long as the practice hour and continuing education hour requirements are met. For those who wish to retake the exam in order to recertify, the fee is $295 for ANA members and $395 for non-members.