Literacy is and has long been one of the most important skills in our society. So much of what we do involves reading to some degree, whether it's preparing our daily meals or even earning a living. A lack of reading ability generally creates a severe disadvantage.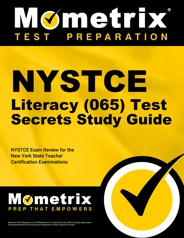 Unfortunately, there are people of all ages struggling with illiteracy. Whether you aim to help young children or adults, it will be your job as a literacy educator to ensure your students gain a firm grasp of reading so they can enjoy a brighter future.
In the state of New York, all educators are required to take and earn a passing score on the NYSTCE (New York State Teacher Certification Examinations) before they can proceed with their careers. For your specific field, this means passing the NYSTCE Literacy exam.
The purpose of the NYSTCE Literacy exam, and every other NYSTCE exam, is to evaluate your professional capabilities. As such, you will be given a time limit of three hours and 15 minutes to answer a total of 91 questions relating to your field. One of these questions will require an essay response (or "constructed-response.") The majority of the exam, however, will be multiple choice ("selected-response.")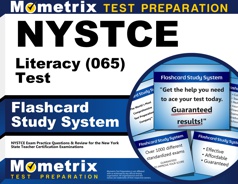 It's true that scoring well on this exam will require in-depth knowledge of your field and its nuances. However, knowing how the exam will be presented and what to expect will also give you the upper hand come test day. On this page, you will find the official Mometrix Test Preparation NYSTCE Literacy (065) practice test. This study tool is 100 percent free for you to use, and is designed to help you gain a glimpse of how the real NYSTCE Literacy exam will work.
All of our NYSTCE Literacy practice questions will pertain to the same subjects covered by the actual test. Specifically, these subjects are:
Analysis, Synthesis, and Application (20 percent)
Foundations of Language and Literacy Development (9 percent)
Language and Vocabulary Development (12 percent)
Foundations of Literacy Instruction and Assessment (15 percent)
Reading & Writing: Different Types of Text (10 percent)
Role of the Literacy Professional (7 percent)
Text Complexity and Text Comprehension (14 percent)
Reading & Writing: Foundational Skills (13 percent)
We hope you will choose to incorporate our NYSTCE Literacy practice test into your study plan. For best results, we recommend using this tool alongside our corresponding NYSTCE Literacy study guide, also featured on this page. Good luck!