The job of a school district leader is perhaps the most important within the educational field. By training for this position, you will essentially have the duties of a school building leader on a much wider scale. Hundreds and thousands of schools will all be under your jurisdiction, and it will be your responsibility to lead them to success. The preparation to take on this vital job has no doubt been extensive and complex, but now you're finally nearing the finish line.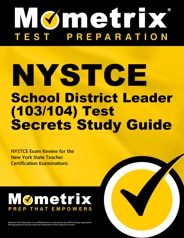 The very last task lying ahead of you will be the NYSTCE School District Leader exam. The purpose of this exam is to assess your mastery of the skills you'll need for the job.
It's worth noting that the NYSTCE School District Leader exam is just as complex as your prior training has been. It is one of the few NYSTCE subject tests to have two separate portions, each spanning about four hours in length.
Both parts of the exam also possess 62 questions, totaling to 124. NYSTCE School District Leader exam questions generally split into two types: essay questions and "selected-response" questions (AKA multiple choice).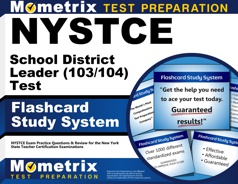 Because the NYSTCE School District Leader exam is so complex, you'll need only the most comprehensive study tools to help you prepare. On this page, you'll find the official Mometrix Test Preparation NYSTCE School District Leader (103/104) practice test.
We have conducted thorough research to ensure this practice test is as accurate to the real thing as possible. All NYSTCE School District Leader practice questions featured on this mock exam will match closely with what you can expect to find on the real exam in terms of structure and content.
Specific subjects for the NYSTCE School District Leader exam include:
Supervising Districtwide Change and Accountability and Developing
Communicating
Sustaining an Educational Vision
Managing District Resources and Compliance
Leading the District Educational Program
We hope you will choose to incorporate our NYSTCE School District Leader practice test into your study plan. For best results, we encourage you to use it in conjunction with our companion study guide. Good luck!