Educators who want to teach special education in Ohio must pass the Ohio Assessment for Educators Special Education (043) exam. The test helps the Ohio Department of Education and State Board of Education meet its goals of delivering quality education while retaining outstanding teachers. Test takers will be tested in the four areas noted below. Yes, you will need excellent study materials to help you prepare, and this guide also provides suggestions.
How many questions are on the Ohio Assessment for Educators Special Education (043) exam?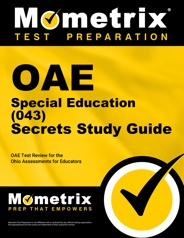 Prepare with our OAE Special Education Study Guide and Practice Questions. Print or eBook. Guaranteed to raise your score. Get started today!
There are 150 multiple-choice questions on the exam, which is taken on a computer.
How long do I have to complete the test?
Candidates have three hours to finish the exam.
What is the test passing score?
Candidates must score at least 220 to pass the exam.
When will I be able to see my test scores?
Scores will be available approximately two to six weeks after your exam date.
When can I take the Ohio Assessment for Educators Special Education (043) exam?
The test is available year-round and by appointment. The testing center won't be open on some holidays.
How much is the exam fee?
The test fee is $105.
What's on the test?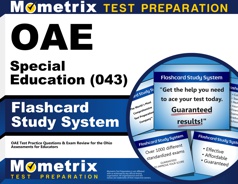 OAE Special Education Flashcards. Proven OAE test flashcards raise your score on the OAE Special Education test. Guaranteed.
The exam has four parts.
Students with disabilities. This section focuses on growth and development in domains that include emotional, cognitive, and speech; disability types; factors that impact students with disabilities, including student development and learning; how disabilities impact attitudes, relationships, and other aspects of the student's life; and understanding medical needs and the potential impact of medication.
Assessment and Program Planning. These questions test knowledge of assessment strategies and how to use assessments; using assessments to identify at-risk students; bias-avoidance techniques during the assessment process; evaluation techniques, including screening, referral, and eligibility issues; the planning and implementation of Individualized Education Programs; and integrating curricula with social and life skills.
Learning Environments and Instructional Practices is the largest portion of the exam and contains 40 percent of the test questions. Topics include learning environment modification, including understanding how the behavior and attitudes of teachers impact students; learning environment management; crisis prevention and intervention; promoting the success of students; instruction in reading, writing, and math; concepts for teaching vocabulary and other essential skills; effective development of communication and social skills; strategies to increase self-esteem and social skills; problem solving and conflict resolution; behaviors, both personally and socially; living skills, including preparing food, managing money, and using technology; and transitioning skills so students can successfully move, for example, from school to work.
Foundations and Professional Practice. This section covers legal and ethical issues; educator roles and responsibilities; special education trends; contemporary issues, such as identifying students with disabilities; communication and collaboration strategies for students and their parents, other school staff, service providers and others; working with local agencies to provide learning opportunities for students; professional enhancement through participation in professional organizations, life-long learning, and professional growth; and self-assessment strategies to identify areas of improvement and professional growth goals.
Where can I take the test?
The test is delivered by a private company that has hundreds of centers across Ohio and the United States. Please consult your materials for the center closest to you.
When should I arrive at the test center?
Candidates should arrive at least 15 minutes prior to your test time.  Anyone who arrives more than 15 minutes late may not be able to take the exam, and you will lose all fees.
When I arrive at the test center, will I need to show identification?
Yes. Candidates must show a driver's license, passport, or another piece of government-issued identification that contains a photo and signature.
Am I allowed to bring my cell phone into the test room?
No. Personal items, such as mobile phones, wallets, and watches are not allowed in the test room. You should consult the full list of banned items.
I need the best study materials I can buy. What do you suggest?
Mometrix offers an outstanding group of materials. Our study guide will show you how to navigate tough questions and find the clues that can lead you to the right answers. This guide also includes an invaluable study plan. Our flashcards help you learn through repetition, which studies show is the most effective form of learning. This isn't an easy test, and it's important to get the best materials to help you prepare for the Ohio Assessment for Educators Special Education (043) exam.