The Orthopaedic Nurse Exam is a comprehensive and challenging assessment for men and women hoping to enter this exciting area of health care.
This examination is divided into the following eight content areas: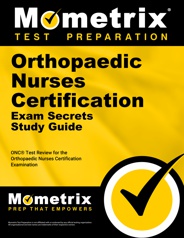 Prepare with our Orthopaedic Study Guide and Practice Questions Print or eBook. Guaranteed to raise your score.
degenerative disease (30%)
orthopaedic trauma (21%)
sports injuries (15%)
neuromuscular/pediatrics/congenital (8%)
inflammatory disorders (8%)
operative orthopaedics (8%)
metabolic bone disease (7%)
orthopaedic oncology (3%)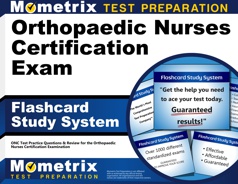 Orthopaedic Flashcards. Proven Orthopaedic test flashcards raise your score on the Orthopaedic test. Guaranteed.
Another way to look at the orthopaedic nurse exam is in terms of test objectives. One quarter of the exam consists of questions about how to teach self-care to achieve maximum functional capacity. Another quarter is made up of questions about how to select appropriate management strategies for a patient's altered comfort.
A third quarter of the questions on the orthopaedic nurse exam has to do with procedures for selecting appropriate measures to prevent, minimize, or alleviate complications. Fifteen percent of the examination consists of questions about how to identify activity and positioning parameters, as well as appropriate assistive devices for a given orthopaedic condition.
Finally, five percent of the questions are about how to identify strategies to promote adequate nutrition prophylactically and therapeutically, and another five percent of the questions are about how to select appropriate emotional support strategies in relation to specific orthopaedic problems.
The orthopaedic nurse exam was developed by the Orthopaedic Nurses Certification Board.