The Orthopaedic Technologist Certification (OTC®) Exam is a certification examination written and administered by the National Board for Certification of Orthopaedic Technologists that is designed to determine whether or not an individual possesses the knowledge and skills necessary to prepare or apply casts, splints, and a variety of other orthopaedic appliances.
This exam assesses the individual's knowledge of patient assessment techniques, orthopaedic appliances, traction, and surgery preparation procedures and methods. This exam is required in order to receive the NBCOT Orthopaedic Technologist Certification. However, an individual may not need the NBCOT Orthopaedic Technologist Certification if he or she has a similar certification, equivalent training, or equivalent experience depending on the specific position that the individual is pursuing.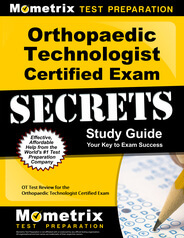 Prepare with our Orthopaedic Technologist Certification Study Guide and Practice Questions Print or eBook. Guaranteed to raise your score.
The exam consists of 165 multiple-choice questions, 150 of which are scored and 15 that are not scored, that relate to the following topics:
Patient Assessment and Management (30 percent)
Office and Clinic Management (10 percent)
Casting, Splinting, and Orthopaedic Appliances (40 percent)
Clinic and Hospital Surgical Procedures (20 percent)
The exam-taker will have 3 hours to complete the exam and the exam-taker will receive a pass/fail grade based on whether or not he or she makes a number of correct responses that equals or exceeds the threshold set by the NBCOT. Currently, the threshold set by the NBCOT requires that the exam-taker make 101 correct responses to successfully pass the OTC® Exam.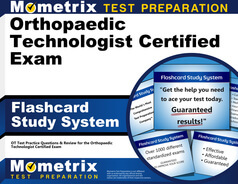 Orthopaedic Technologist Certification Flashcards. Proven Orthopaedic Technologist Certification test flashcards raise your score on the Orthopaedic Technologist Certification test. Guaranteed.
In order to register for the exam, the individual interested in pursuing certification must have 2 years of full-time training in a supervised orthopaedic setting, completed an orthopaedic technologist program and have at least six months of orthopaedic experience, have completed an orthopaedic technologist program recognized by the National Association of Orthopaedic Technologists (NAOT), have a certification from an orthopaedic field and at least 1 year of orthopaedic experience, or have an Athletic Trainer certification or license and at least 6 months of orthopaedic experience.
If the individual meets one of the above requirements, he or she may register for the exam by submitting a written application to the NBCOT. The current registration fee for the exam is $375.