Throughout the world, educational professionals consider no time within a student's academic career to be more important than their early childhood. This is when everyone receives the important basics, which will lay the foundation for the rest of their education and even their adult career skills. It's a wide- and well-known fact that this academic period requires the most focus and care.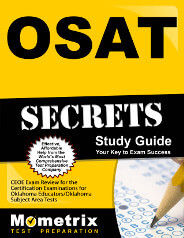 Prepare with our OSAT Study Guide and Practice Questions. Print or eBook. Guaranteed to raise your score. Get started today!
This is why educators of this specific field are trained heavily to meet the needs of each generation's youngest students: to nurture them and guide them through their first steps toward success. If you plan on working in the state of Oklahoma, you know you have one extra step when it comes to finally getting started in the classroom. That final step is earning a passing score on the OSAT Early Childhood Education exam.
If Early Childhood Education is your field of expertise, you know just how important performing well on this exam is to your career prospects. The Mometrix Test Preparation team understands, too. This is why we want to offer you our free OSAT Early Childhood Education (105) practice test.
Crafted through careful research, our practice test is designed to serve as an accurate mirror of the real exam. By taking this OSAT Early Childhood Education practice test, you will receive a complete, firsthand glimpse of what to expect come exam day, from the exam's formatting to its contents.
Each of our 81 OSAT Early Childhood Education practice questions adheres to one of the subjects relevant to the full exam.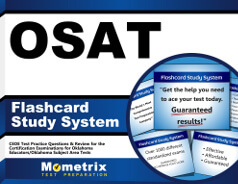 OSAT Flashcards. Proven OSAT test flashcards raise your score on the OSAT test. Guaranteed.
One of these 81 questions falls under the "constructed-response" category, which requires an essay response and accounts for 15 percent of the exam's contents. Its sole subject is Analysis of Communication, Language, and Literacy Development.
The remaining 85 percent of the exam falls under the "selected-response" (or multiple choice) category, its subjects include:
Professional Knowledge and Responsibilities (12 percent)
Child Development, Learning, and the Learning Environment (19 percent)
Learning Across the Curriculum (27 percent)
Communication, Language, and Literacy Development (27 percent)
We hope this practice test will serve as an effective part of your study plan for this important exam. For a more thorough study experience, we recommend pairing this practice test with our companion OSAT Early Childhood Education study guide. Good luck!
Click Here for OSAT Practice Test