The OSAT Early Child Education test is designed to measure a candidate's command of the subject matter and skill set required for a successful career in early education. All of the material is based on National and Oklahoma state standards and curriculum.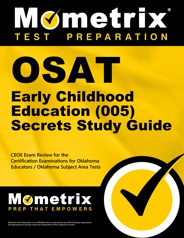 How Far In Advance Do I Need to Schedule My Appointment?
The test is offered all year round except on Sundays and certain holidays which means you won't necessarily face a lot of competition in getting your preferred appointment.
However, it is still a good idea to book your appointment 6 to 8 weeks in advance just to make sure you definitely get the date and time that works best for your schedule and your preparation needs.
What Will Be on the OSAT Early Childhood Education Test?
You will have 4 hours to answer 80 multiple choice questions and complete one written response. Take a look at the short outline below to get a sense of what subjects you'll be expected to know for the multiple choice section:
Learning across the curriculum – 21-22 questions

Cognitive development in children aged 0-8 years old.
Creating opportunities for developing a range of cognitive skills and abilities.
Instructional strategies for developing students' fundamental skills and conceptual knowledge in math, science, social studies, and the arts.
Provide opportunities for students' to meet their personal health, safety, and nutrition needs as well as develop students' awareness of these areas.

Communication, language, and literacy development – 21-22 questions

Expressive and receptive language development
Developing learning experiences that promote language and literacy skills and a positive relationship with literacy.
Effective instructional strategies for developing phonological and phonemic awareness as well as word identification skills.
Reading comprehension, reading fluency, vocabulary skills, spelling proficiency, and writing processes.

Child development, learning, and the learning environment – 15-16 questions

Early childhood development from ages 0-8 years old.
Methods and strategies for creating a positive learning environment
Use and benefits of different types of assessments
Instructional materials and technology for the classroom

Professional knowledge and responsibilities – 9-10 questions

Roles and responsibilities of early childhood educators
Building positive, collaborative relationships with students, families, other professionals, and the community.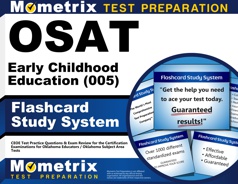 Your written response will be to a prompt that requires you to analyze a topic that blends communication, language, and literacy development. You will get an example of a student assessment or piece of student work and your job is to identify areas of strength and weakness and develop a strategy or set of strategies to help the student effectively improve in the areas where they need improvement.
How Is the Exam Scored?
Your score is based on a combination of your raw score (total number of correct answers) on the multiple choice section combined with your score for the written response. Your written response will be scored on a scale of 1 to 4 according to how well it meets the following criteria:
It effectively and comprehensively achieves the purpose of the assignment.
It exhibits an application of subject knowledge that is accurate, substantial, and relevant.
It provides appropriate, high quality evidence to support arguments.
The response is well reasoned and represents a full understanding of the topic.
These two scores are combined with the multiple choice section accounting for 70% of your final score and the written response making up the remaining 30%. That combined score is then converted into a scaled score ranging from 100 to 300. In order to successfully pass the exam and move on in the certification process, you need to get a minimum of 240 on this scale.
How Much Time Should I Spend Studying for the Test?
The amount of preparation needed all depends on you. For example, if you struggle with taking tests in general, you'll want to spend more time preparing even if you feel confident in your knowledge of the material. Aim for somewhere between 3-8 weeks (with at least 15-20 hours of studying per week).
In that time, make sure you focus not only on reviewing all of the concepts, curriculum, and procedures but also working on your test taking skills. There's no better way to accomplish all of that than with the Mometrix Study Guide and Mometrix Flashcards. You'll be able to review all of the essential information that will be on the test and do it in a fun and interactive way. Then, you can use the proven test taking strategies and study tips that come with them to ensure you are 100% prepared to do your absolute best come test day!