Elementary Education is a vital part in a child's life. To ensure success in education, it is important to have a strong foundation. Due to the important nature of Elementary Education, Oklahoma has created the OSAT Elementary Education exam. This exam is used to ensure that only quality teachers are establishing the academic foundation for Oklahoman children.
The OSAT Elementary Education exam is one of the many tests included in the Certification Examinations for Oklahoma Educators, or CEOEs. This test is split into two separate subtests.
The first of which is Subtest 1, which contains 52 selected-response questions and 1 constructed-response assignment, all pertaining to Reading and Language Arts.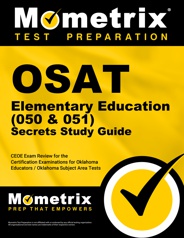 Subtest 2 is comprised of 66 selected-response questions covering the following topics:
Social Studies
Mathematics
Science
Health/Fitness
the Arts.
For both subtests, test-takers must achieve a minimum score of 240 to pass. There is a total of 4 hours for test-takers to complete each subtest.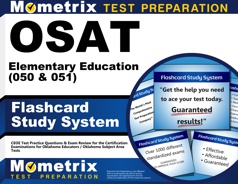 While the idea of having to take this test may be daunting, the Mometrix Test Preparation team wants to assure you that you have nothing to fear! We're here to help you with our 100 percent free OSAT Elementary Education: Subtests 1 and 2 (Tests #50 and #51) practice test.
As with all of our resources, we strive for accuracy. This practice test is thus designed to give you a complete glimpse of the real test's structure and content, so you know what to expect. Our OSAT Elementary Education: Subtests 1 and 2 practice test is ideal for familiarizing yourself with the material and evaluating your strengths and weaknesses with the test's specific subjects. By taking advantage of this resource, you limit your chances of being caught off-guard.
This practice test contains 53 OSAT Elementary Education: Language Arts practice questions. These questions split into one of two categories. At 15 percent of the test's content, the "constructed-response" category features only one subject: Reading.
The "selected-response" category takes up the remaining 85 percent of the exam, its subjects including Language Arts (28 percent) and Reading (57 percent). Feel free to use this resource as often as you need while you study.
While our practice test is quite effective when used standalone, it works best in conjunction with our OSAT Elementary Education: Language Arts study guide. Good luck!